UBS, Macquarie top dealmaking league tables
In mergers and acquisitions, revenues generated in Australasia reached $US752 million, up 52 per cent from 2017. Global revenues increased 8 per cent, with US deal activity up 5 per cent.
Australasian capital markets volumes were up 21 per cent to $US25.8 billion. That bucked a global tend in which capital raisings volumes were flat in North America and Japan and down 40 per cent in Europe.
The increase in capital markets activities was soured to some degree by the poor performance of several new initial public offerings in the Australian market.
In the Asia region, ANZ Banking Group ranked highly as a bookrunner and mandated lead arranger of syndicated loans. The bank was the second-largest bookrunner and mandated lead arranger of loans behind Bank of China in the Asia-Pacific region, and the top-ranked bookrunner of major currency loans.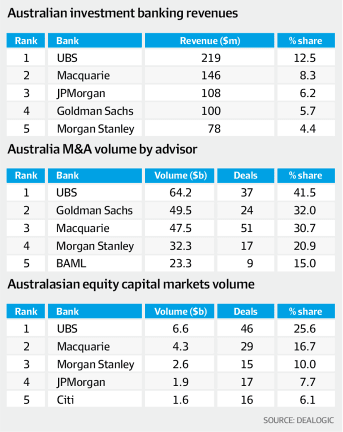 ANZ topped the syndicated loans tables in Australia, ranking ahead of National Australia Bank and Commonwealth Bank. Japanese lender MUFG pipped Westpac into fourth place.
NAB was the most active debt capital markets dealmaker, ranking ahead of ANZ, Westpac and Commonwealth Bank.
The global investment banking revenue table was topped by JPMorgan, which earned $US6.9 billion, edging out Goldman Sachs, which earned $US6.2 billion for the second consecutive year.
Globally, the top-ranked advisers in M&A by revenue last year were Goldman Sachs, JPMorgan and Morgan Stanley. The top M&A boutique firms by revenue were Evercore, Moelis and Centerview.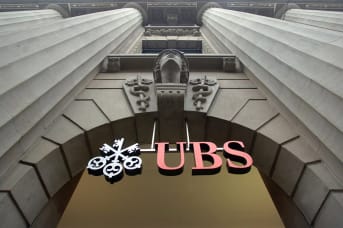 The most lucrative sector globally for M&A activity was technology, followed by healthcare and finance. However, financial services was the most lucrative sector for overall banking revenues.


Source link Finance News Australia