Two people dead, seven missing, 100 homes destroyed
"We do need to brace ourselves and what is concerning is the forecast on Tuesday," Ms Berejiklian said. "We may not be through the worst of it."
The woman, who was found unconscious with burns to 40 to 50 per cent of her body, died in hospital on Saturday morning.
She was found at the Kangawalla fire near Glen Innes, the same fire near which crews found the body of a person in a burnt out car on Saturday morning.
"Firefighters came into an area and found somebody badly burnt, the reports were initially burns 40 to 50 per cent of her body," NSW RFS Commissioner Shane Fitzsimmons said.
Firefighters gave her CPR for several hours before paramedics could arrive, he said.
'Grave concern'
Mr Fitzsimmons said that authorities have "grave concern" for those people unaccounted for and "we are expecting that number to climb today".
"That is not necessarily a number for alarm," he said. "But we can't rule out the grave concern of more losses."
Mr Fitzsimmons also warned that the number of properties that had been destroyed was expected to rise, as firefighters had as yet been unable to access some fire grounds to assess the damage.
"With the analysis that we've been able to get overnight, and it's all preliminary, but we are looking at at least 100 homes [destroyed], although we still haven't got intelligence from a number of the fire grounds that we know have been impacted very dramatically," he said.
"So we are expecting the potential for that number to climb as we get access to these areas and more information through.
"We've got three people that are unaccounted for, and we simply just don't know where they are at the moment."
He urged people affected by the fires on the north coast and northern NSW areas to register with the Red Cross.
Emergency warnings
Four emergency warnings were still in place, for Rumba dump and Hillville Road in Hillville, all in the Mid-Coast local government area; Stockyard Flat in the Walcha local government area; Coombes Gap Complex fire in the Port Macquarie-Hastings local government area.
There were still 70 bush or grass fires burning in NSW with 39 uncontained, the RFS said.
The RFS said firefighters were in "uncharted territory" at the peak of the crisis, when a record 17 blazes burned simultaneously at emergency level on Friday night.
Mr Fitzsimmons acknowledged on Friday night that the state had "never had this many fires at emergency level".
"We are in uncharted territory … we've never seen this many fires concurrently at emergency warning level," he said.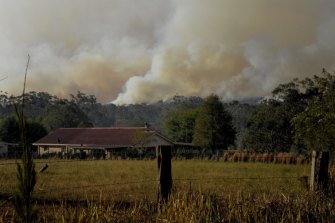 The RFS said that many people had called for help but the size and speed of the fires meant they could not get to everyone.
Mr Fitzsimmons said the RFS was receiving preliminary reports of property damage, and minor injuries to both firefighters and members of the general public.
'A sky screaming danger'
"We can certainly see some of the aerial footage and the vision coming through which is identifying some widespread property damage and destruction right across multiple firegrounds," Mr Fitzsimmons told the ABC.
Loading
Residents in Bellbrook, Willi Willi, Bora Ridge, Lower Creek or Comara were told it was too late to leave as road access was blocked due to various different fires, while those in Coutts Crossing, Old Bar, Tinonee, Purfleet, Wallabi Point, Laurieton and Dunbogan were encouraged to evacuate.
MidCoast Mayor David West, who lives in Brimbin, said that he had never seen anything like the nearby fire.
"I'm looking at a sky that's screaming danger, that's saying 'get out of my way, I'm going to kill you'," he said.
"I know that sounds melodramatic but it's not. This is a fire that's devouring everything in its path."
with AAP
Sally Rawsthorne is a Crime Reporter for The Sydney Morning Herald.
Jamie Berry is a journalist at the Sydney Morning Herald