Three-eyed snake found near Darwin
Snake experts in the NT believe the third eye was functional.
"The snake is peculiar as an x-ray revealed it was not two separate heads forged together, rather it appeared to be one skull with an additional eye socket and three functioning eyes," NT Parks and Wildlife posted to Facebook.
"It was generally agreed that the eye likely developed very early during the embryonic stage of development.
"It is extremely unlikely that this is from environmental factors and is almost certainly a natural occurrence, as malformed reptiles are relatively common."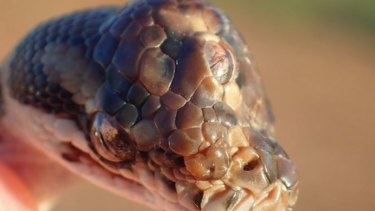 Unfortunately for Monty, and snake lovers, it died last week because its misshapen head made it too difficult for it to feed.
But in a positive, its image has put the Territory, desperate for more tourists, on the global map.
The post has been viewed more than a million times and shared more than 11,000 times, while media officers have been fielding calls from as far away as the United States.
In a nod to Game of Thrones, which features a three-eyed raven, the Facebook post states: "The three-eyed snake warns The Dry is coming!"
The weird and wonderful is nothing new for the Territory. In 2016, a supposed four-eyed fish was caught in Buffalo Creek, which is just beyond Darwin's northern suburbs and nowhere near Springfield.