the best service provided by shopping centres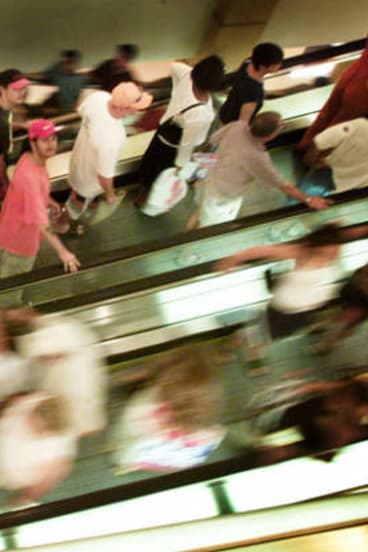 My dearly departed dad always said a very Sydney form of hell was driving west on Parramatta Road with the sun setting in your eyes in bumper to bumper traffic.
I have a fresh version of hell for him: Christmas shopping in Westfield Chatswood with the air-conditioning unit broken down. When I found
myself doing the Sydney shopping centre author tour to sign books for pre-Christmas sales, I could not quite believe how hot it could get in
the bowels of the building where the book store was located. The Dymocks Chatswood staff were so apologetic as we all sweated in-store though, of course, it was not their fault.
The shoppers were even obliging and bought
lots of books. But it was more than uncomfortable and we all got a bit hot under the collar. I couldn't help but daydream back to the shopping malls of my past in an attempt to determine when we had parted ways.
I don't think I've been to Westfield Chatswood since 1974 when as a child ballerina I was in a dancing troupe that performed with Little Pattie (Patricia Amphlett) in shopping centres across the city.
Chatswood, Warringah Mall, Miranda Fair – you name it, we were there, in a velour and sequinned number dancing with the Paddlepop lion in a promotion for Street's ice cream. We got paid the princely sum of $32 a week and even had to join Actor's Equity. I think that was perhaps
the last time I enjoyed a shopping mall: when somebody paid me to go there.
When I lived in France and worked in a rural area outside of Lyon, I remember catching the train to Nice once and being in complete culture shock when I found myself in a shopping mall for the first time in  a long time. I'd been living in a rustic old town in a 15th century building, shopping at the local epicerie, boulangerie and daily markets so to find myself on an escalator was like taking a time machine to another world.
When I lived in California too, again in a rural region, north of San Francisco a local group gathered together to stop "big box" developments, as they called the shopping mall. A documentary was even made about the effort to encourage the people of Petaluma, where I lived, to shop locally rather than in big faceless multinational companies. Which could have again fed my aversion to the air-conditioned one stop shop mall with car park, simply because I wasn't exposed to it as regularly.
Let's not forget the Westfield shopping complex sprung out of western Sydney in Blacktown. Frank Lowy called his company "Westfield" because his first centre in 1960 was in the western suburbs and was next to a field. It's an Australian invention that the world has lapped up like Foster's lager. So why do I hate them so?
I couldn't help but find myself harking back to the shopping malls of my past to answer this question. I pondered it as I made my way from Warringah Mall (nice, with an outdoorsy Queensland feel) to Castle Towers at Castle Hill (again, where there's an extremely obliging Dymocks staff). From Harry Hartog, Bondi Junction to Berkelouw's Balgowlah in the Stockland Shopping Centre.