Test cricket TV ratings take a hit, but viewers still tuning in
Australia won that series 2-0. The final two matches were drawn.
It was also down on last year's Ashes, the final year of Nine's cricket broadcast contract, when Australia won 4-0 and an average of 1.28 million people watched each match.
Comparatively this summer, after two competitive Test matches in Adelaide and Perth, Melbourne's Boxing Day and Sydney's New Years matches were dominated by India and saw fewer wickets fall. As a result, India secured its first Test series win on Australian soil, taking home the Border-Gavaskar Trophy 2-1.
Seven is paying roughly $82 million per season, while Foxtel is handing over $105 million. Advertising revenue will be revealed when Seven and News Corp, majority owner of Foxtel, report first-half results next month. However, in December, Prime, which pays affiliate fees to Seven, issued a trading update that said total advertising revenue for December was forecast to be 15 per cent above the previous corresponding period. It noted January and February forward bookings were ahead on the same time last year.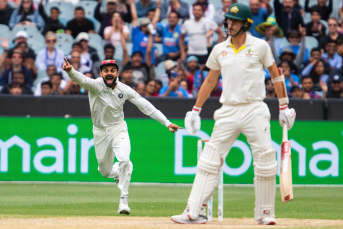 Australia was missing star batsmen Steve Smith and Dave Warner, who were banned for cheating in South Africa last year.
Decline in numbers
The free-to-air audience, across metro and regional, for cricket was down significantly on India's previous tour, about 37 per cent from 1.3 million to 818,664. A decline of at least 30 per cent would be expected given Foxtel is in about 30 per cent of households.
The 2018-19 summer was the first time Foxtel has had rights to international cricket played in Australia. It is also the first time Test match and Big Bash League cricket are on one free-to-air channel.
"Our partners have been thrilled with the success of their campaigns during this test series," Seven director of network sales Natalie Harvey said.
"The tremendous reach of the cricket has delivered a massive audience, and has given our cricket partners and all advertisers unrivalled access to the key demographics they are targeting across the summer."
Overall attendance was up about 20,000 to 490,764 this season over the four Test matches, compared with 470,212 the last time India toured in 2014-15.
Last year's Ashes series drew a far larger total crowd of 865,451 across five Test matches, but that would be expected as the premier series hosted in Australia.
This summer, the the first day of the Boxing Day Test recorded the highest attendance this year at 73,516 – 40,000 people clear of the next highest first day attendance, which was Sydney – and the Test, overall, had the highest number of people in the ground across the five days at 176,539.
Perth lagged behind every other location this year and this was the same for last season. Attendance was down by 10,00 this year from last year even with the new stadium's higher capacity than the WACA and high publicity leading into the test.


Source link Business News Australia