Summer in Australia likely to bring heatwaves, droughts, says BOM
Average rainfall levels for the period are also the fourth lowest on record, and the lowest since 1965, the bureau said.
"This summer there's a higher chance [than normal] of extreme heat developing across our inland with soils so dry and an outlook for clearer skies," Adam Morgan, a senior meteorologist, said.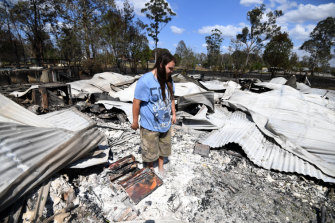 "This raises the risk of heatwaves for much of southern and eastern Australia when winds push this heat towards the coast."
Early season bushfires have already destroyed dozens of homes in NSW and Queensland, and the dry conditions also point to a long and active fire season for much of the country.
"Through the remainder of the fire season, the dry landscape in the east and south-west [of] Western Australia means that any warm and windy weather will increase the fire risk, particularly along the coast and in elevated areas," Dr Morgan said.
"We expect the warm and dry trend to continue for the remainder of the year," Dr Morgan said.
The climate drivers that have contributed to the extended dry spell also point to fewer than usual tropical cyclones forming off Australia's north this summer, the bureau forecasts. Australia typically has 11 cyclones in its region a year, with an average of four crossing the coast.
Still, the bureau cautioned that it cannot predict well in advance the size, location or timing of cyclone formation, so populations in northern regions should remain prepared for tropical tempests.
"Even if cyclones stay well out to sea, they can still pose a significant risk to property and lives through strong winds, intense rain and flooding, and storm surges," Andrew Watkins, head of the bureau's long-range forecasts said.
A quieter than normal cyclone season could also be bad for inland regions hoping for rainfall from decaying storm systems. Such events often produce heavy falls for areas such as the Darling River and its tributaries.
A key influence worsening the drought has been the relatively cool waters off north-western Australia. A gauge of such conditions, known as the Indian Ocean Dipole (IOD), has lately been recording the highest positive values in records since 2001.
Positive IODs typically lead to drier air than usual over north-west Australia that supplies much of Australia's rainfall, particularly in spring, Dr Watkins said.
The IOD index – which compares relative warmth of the western and eastern Indian Ocean – has exceeded 2 degrees, according to the latest data, released on Monday.
The record IOD readings also exceed the highest levels predicted as recently as a fortnight ago in the main models used by the bureau for its long-range forecasts.
Peter Hannam writes on environment issues for The Sydney Morning Herald and The Age.
Most Viewed in Environment
Loading