Seven's Sunrise stars fall victim to fake news
The ad featuring Ms Armytage, Ms Barr and David Koch has since been taken down.
Growing frustration
Last year, Triple M Hot Breakfast host and Collingwood Football Club president Eddie McGuire was the subject of fake ads for an erectile dysfunction supplement and vowed to sue Facebook over the ad. Nine presenter and former Today host Karl Stefanovic has been the subject of similar fake claims in Facebook and Google ads.
Today's current duo Georgie Gardner and Deborah Knight have also featured in fake news ads on Facebook and Google claiming they are leaving Nine or have been sacked.
"We have clear policies against ads that mislead or trick users into interacting with them. When we find ads that violate our policies, we remove them," a Google spokeswoman said.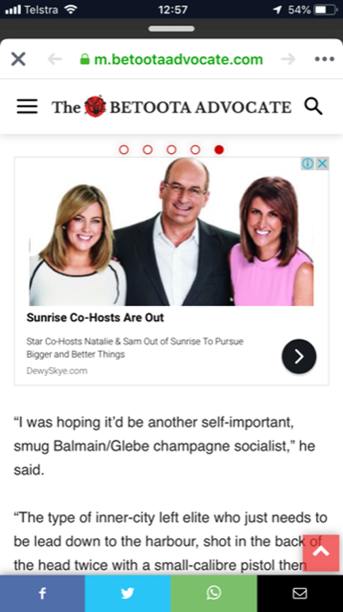 Google, along with social media network Facebook, have been heavily criticised across the world for the spread of fake news, or misinformation, across their platforms.
While they have been more active, particularly since the 2016 United States presidential election, they have struggled to stop the spread of fake news on their products.
There is growing frustration from media companies in Australia and the celebrities who get caught up in fake ads that Google and Facebook are not doing enough to tackle the issue. Often offending ads are taken down only after they are identified elsewhere and the company is alerted.
The Australian Competition and Consumer Commission noted in its draft report for its digital platforms inquiry that issues relating to the authenticity and quality of news were not new, but problems could be magnified online because the medium was often highly emotive and drew users in.
"There is a risk that consumers accessing news via digital platforms may receive greater exposure to less reliable news, including dis-information and mal-information ('fake news') and potential filter bubbles," the report said.
"However, there is currently no strong evidence of filter bubbles arising from digital platform use in Australia."


Source link Business News Australia