Samsung's $3000 folding phone to hit Australia next week
The Korean phone-maker has claimed the Fold is the introduction of a new category that it will support with new devices going forward. As phone screens are beginning to exceed six inches, the Fold is designed to facilitate an even larger screen in a form that can fit in your pocket.
Other than the folding display, the phone features six cameras, large dual batteries, wireless charging, reverse charging and a side-mounted fingerprint scanner. It also has an unusually robust 12GB of RAM to facilitate the running of multiple apps simultaneously across the large screen. The phone is powered by the Snapdragon 855 processor, not an Exynos as is usually included in Samsung's phones outside of the US. A 5G variant has not been announced for Australia.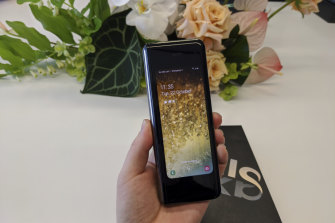 The Galaxy Fold was originally slated for release in certain regions on April 26, but the launch was cancelled after some reviewers found their units broke easily, had malfunctioning hinge mechanisms or lacked protection against objects working their way inside through a gap in the screen.
The redesigned phone eventually made it to market in South Korea in early September, and then the US, albeit with a litany of warnings affixed. A Samsung spokesperson said that, in the event of an Australian Fold purchaser requiring a screen replacement, special arrangements would be made to keep the cost down.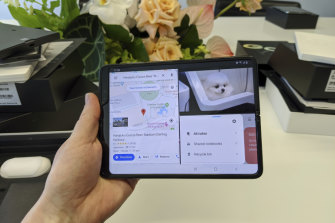 In a brief hands on at Samsung's event, the Fold felt solid and refined. It's not difficult to open, but requires deliberate force thanks to a magnetic clasp and resistance built into the screen. Once open it locks into a flat position and can be used like a tablet. It feels very unlikely to open or close accidentally, even while using as a tablet in one hand.
A primary camera array made up of three lenses sits on the back of the device and can be used with the phone open or closed, while two forward-facing setups allow for selfies in either position too. The phone's software seamlessly extended apps from the front screen to the larger inner screen, although only certain supported apps will be able to go back the other way. The ability to run multiple apps at once is also limited to software that supports the feature.