Rising temperatures threaten Melbourne, Sydney's water security
Loading
Warmer temperatures lift evaporation rates and dry out catchments, reducing the chance of the medium-sized floods that typically provide the great bulk of reservoir inflows in any one year, Professor Sharma said.
"It is a double whammy," he said. "You're having a reduced access to water and increased water demand – hence the vulnerability, the security of the water system, reduce even more."
Internationally, those moderate floods are expected to decrease at the rate of about 13 per cent each degree of warming, Professor Sharma said, noting that current carbon emissions trajectories point to a 3.5-degree increase by 2100.
Record warmth in 2019
The dams serving both Sydney and Melbourne are hovering just above 50 per cent, with the former's falling more rapidly in recent years than during the Millennium Drought earlier this century.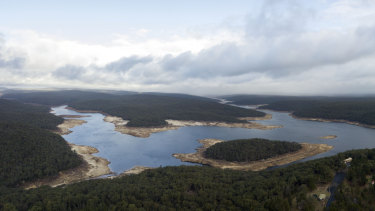 Desalination plants in both cities are ramping up. The Victorian government in April ordered its plant at Wonthaggi to deliver 125 billion litres for the 2019-20 year, while Sydney's Kurnell plant is nearing its full capacity of about 91 billion litres per year.
The first seven months have also been the hottest on record for maximum temperatures for Victoria and the second warmest for NSW, the Bureau of Meteorology said.
Benjamin Henley – who studies water resource impacts from climate change at the University of Melbourne and the lead author of the research paper – said a warming world pointed to reduced rainfall in southern states.
Loading
"In the south, we're likely to face a long-term drying trend under climate change, and it has almost certainly started," Dr Henley said.
Even so, his team's work showed that for Melbourne at least, there was a "distinct difference" in the impacts for water security if temperature rises were kept to 1.5 degrees rather than 2 degrees.
Lily D'Ambrosio, Victoria's climate change minister and acting water minister, said the warming was "a reality".
"We know we need to act now and plan for how we can better withstand increasingly high temperatures, reduced water availability, and the impact this has on the environment," she said.
Water efficiency measures, stormwater capture and making better use of sources independent of rainfall such as desalination, would be part of that planning, she said.
Fiona Smith, WaterNSW's executive manager water and catchment protection, said her agency was continuing to assess climate projections, noting some models projected increased rainfall.
"Research into climate change impacts are progressing but without conclusive findings accurate predictions for the east coast of Australia for water security purposes are not yet available," she said.
Peter Hannam writes on environment issues for The Sydney Morning Herald and The Age.
Most Viewed in Environment
Loading