Qatar gently weeps with no ABC money
So earlier this year One Nation senator Peter Georgiou set about interrogating ABC managing director David Anderson about the cost to the broadcaster of airing this "Islamist" content.
Perhaps he was inquiring because of his long-held interest in the fiscal constraints faced by ABC management — but we doubt it.
Now ABC disclosures show that there was, in fact, a $5000 licence fee for the broadcast of the two-part documentary, but it was only paid with "in-kind" archival footage.
Surely that'll rob the mob of ABC critics of the kind of ammunition needed to continue their fulmination at the possibility we've been secretly enriching those Qatari sheikhs.
And it's saved the ABC — where Gaven Morris has declared there is definitely "no more fat to cut" — precious resources to invest in other groundbreaking works such as CBD's recent favourite: "Can you tell the difference between a Royal wedding hat and a chicken?"
VEEP IN VAUCLUSE?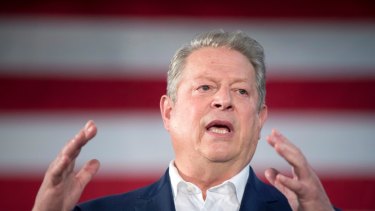 Former US Vice President Al Gore was in Brisbane this week on a much-publicised visit during which he dined with Queensland Deputy Premier Jackie Trad and watched the State of Origin alongside Labor leader Anthony Albanese and Deputy Prime Minister Michael McCormack.
But on Monday, the former Veep quietly flew to Sydney for dinner with none other than Atlassian billionaire Mike Cannon-Brookes, with whom he shares visions of a fossil-free future.
They were last publicly spotted together in December, when Cannon-Brookes brought his "fair dinkum power" campaign to Gore's 24 Hours of Reality worldwide broadcast.
ELECTRIC DREAMS
Morgan Stanley's local boss Richard Wagner had a win this week after pulling off the investment bank's first Australian conference, putting it in the field with rivals UBS and Macquarie whose well-attended events are often highlights of the market calendar.
Between Telstra chief Andy Penn, Cannon-Brookes and Morgan Stanley's Manhattan-based chairman James P. Gorman, Wagner had plenty of firepower.
But there was one — more unexpected — session which caught the eye of local fund managers: a presentation with Cathie Wood, the boss of $US6.6 billion New York fund ARK Invest.
Loading
Late last month ARK released its analysis of Elon Musk's electric car maker Tesla, deciding that while it might currently be worth around $US193.60 a share, by 2023 it would be $4000.
It was a piece of work described by at one finance academic, New York University's Aswath Damodaran (remember him from the tiff between VGI Partners and Corporate Travel Management last year?) as "more fairytale than valuation".
For a start, one calculation which should have been $US19 billion was instead $US19,000.
All of this was understandably a red rag to Australia's community of Tesla sceptics, which ranges from Bronte Capital's John Hempton to Antipodes Global investment boss Jacob Mitchell.
As one hedge fund insider told this column, there was "no questioning (Wood's) chutzpah".
"If I'd just public released a model as error-riddled as the Tesla valuation I wouldn't be seen in public for at least a decade … come to think of it, I'd change my name and wear a disguise".
PARLIAMENT'S MAROON SHOCK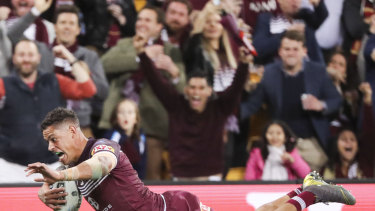 It was quite a crowd gathered at Macquarie Street to watch Dane Gagai help snatch the State of Origin series-opener for Queensland.
The Clubs NSW knees-up drew Transport Minister Andrew Constance, Corrections Minister Anthony Roberts, Jobs Minister Stuart Ayres and Agriculture Minister Adam Marshall.
One Nation's NSW leader Mark Latham also came down to Parliament's Strangers' Room for the game, as did Labor MPs Kate Washington, Prue Car, Marjorie O'Neill, Greg Warren, Paul Scully and Tara Moriarty and Liberal MPs Taylor Martin and Scott Farlow.
But it was with some surprise we spotted Fair Trading Minister Kevin Anderson, the Tamworth MP, barracking for Queensland (where, we later learnt he had grown up).
Others, however, pointed out former Liberal MP Scot Macdonald — a XXXX drinker by birth — was often seen in the Queensland jersey during State of Origins past.
In the nearby Jubilee Room, Labor's new Upper House MP Rose Jackson was celebrating her move from head office, where she was until recently the party's assistant state secretary.
Federal Labor frontbenchers Chris Bowen and Linda Burney were in the room, along with Q&A executive producer Peter McEvoy and Unions NSW boss Mark Morey.
What's a worse parliamentary crime: not turning up to the game or turning up wearing maroon?
Kylar Loussikian is The Sydney Morning Herald's CBD columnist.
Samantha is the The Age's CBD columnist. She recently covered Victorian and NSW politics and business for News Corp, and previously worked for the Australian Financial Review.