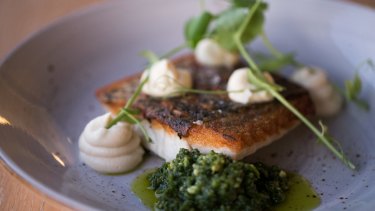 Diners are also most likely to order items at the top of the menu, according to another study on the psychology of choice. Yep, just did that. "Polpo" is a very composed dish of gnarly, charred, grilled octopus ($22) with dollops of white bean puree, some starchy, undercooked white beans, and a crisp fry of 'nduja crumbs. "Peperone" sees a large bullhorn pepper ($14) stuffed with a bready, meat-free mush and garnished with a gel of gremolata with not enough of the promised parsley, lemon rind and garlic hit to pep up the blandness.
The pasta delivers what it promises, however, with a mound of house-made pappardelle, the elastic ribbons coated with an oozy, slow-braised lamb shoulder ragu and grated pecorino ($26). It's the sort of dish that jumps from the menu on a chilly, windy night, making every other choice superfluous.
The fish today is Cone Bay barramundi, a consistently excellent product with little of the muddiness characteristic of farmed barra in the past. A chunky, meaty fillet sports crackling-crisp skin and snowy white flesh, piped buttons of cauliflower puree and a dollop of pesto heavy on the parmigiano, showing good kitchen smarts. On the side, wilted cavolo nero and cabbage ($8) are somewhat drowned in a buttery, chilli-flecked broth.
The wine list is as tight as the menu, including a fresh, easy-drinking Terra Viva pinot grigio from the Veneto ($14/$34/$68).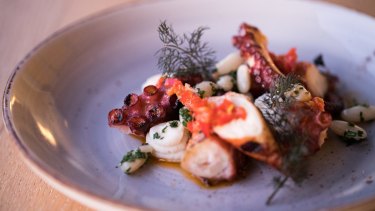 With just two desserts (good Italian cheese is the third choice), I think we all know they will be tiramisu and panna cotta. Ah, but the panna cotta is a surprise, having been set – but not too much so – in a Marie Antoinette champagne glass, topped with a thin, crisp caramel tuile that you crack like a creme brulee. Nicely done.
The bill is fair, the service is sprightly, and there's a charm about being in a beachside suburb in winter. You could probably say that about every second Italian from Manly to Maroubra, but still, it's one minute and 49 seconds of your precious time well spent.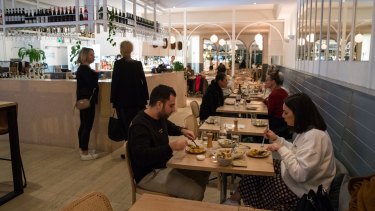 The low-down
Osteria Coogee
Address: 31 Alfreda Street, Coogee, 02 9665 6797, osteriacoogee.com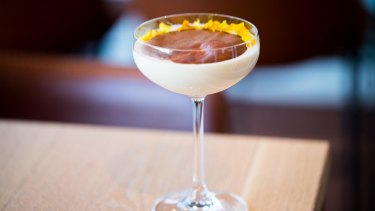 Open: Wed-Fri 5pm-late; Sat noon-late; Sun noon-10pm
Vegetarian: Three starters, one pasta and three sides
Drinks: A tight 20-bottle Italian/Oz wine list, four beers and classic Italian cocktails and spritzes
Cost: About $110 for two, plus drinks
Score: 14/20
Go-to dish: Pappardelle, lamb shoulder, pecorino $26
Pro tip: Happy hour runs every day from 5-7pm with $10 spritzes and Americanos
Terry Durack is chief restaurant critic for The Sydney Morning Herald and senior reviewer for the Good Food Guide. This rating is based on the Good Food Guide scoring system.