Marijuana industry's difficult trip to a high
Small legal market
Americans and Canadians spent an estimated $71 billion on cannabis products in 2016, according to ArcView Market Research. Legal sales constituted 13 per cent of the total.
As more American states and other countries legalise marijuana, legitimate companies are going to capture billions in wealth that goes to drug cartels.
At the moment, though, the market for marijuana investments is erratic. Canadian authorities legalised recreational marijuana October 17 – and cannabis stocks tanked 44 per cent from the start of the month to the end of the year.
The problem wasn't that legal weed was less popular than expected. Prime Minister Justin Trudeau said a supply shortfall was the biggest challenge.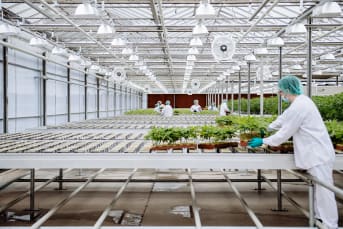 Cashing in early
Early investors, such as venture capitalists, decided to cash in on a rush of early cannabis sharemarket floats. They dumped shares, pushing down prices.
Then, come the new year, cannabis shares took off again. MMJ's top investment, Vancouver-based Harvest One, is up 62 per cent this year.
A few pot plants are common in many Australian homes. Growing marijuana on an industrial scale is a significant horticultural challenge. The big producers will need to provide oil on a mass and reliable basis year after year.
"It is not as simple as growing potatoes," says MMJ chief financial officer Jim Hallam. "It's a sophisticated process."
Harvest One is determined to become the Domino's of marijuana: delivering reliable, popular products at attractive prices.
The product testers at Harvest One must have interesting jobs. A cannabis-laced drink called Dream Water is designed to aid sleep without making you drowsy. Gels, creams and sprays will deliver CBD, cannabis' non-hallucinogenic component. An upmarket marijuana brand, Royal High, may be used for chocolate and coffee.
Why Canada, not US
As every watcher of Hollywood teenage movies knows, the US is the world leader in drug culture. Marijuana is available in walking distance of the White House, and 10 states have legalised recreational use.
But US federal authorities still place dope in the same category as heroin and LSD. The Australian Securities Exchange doesn't like its companies breaking foreign laws, even if they aren't observed in their own country.
That leaves the Toronto Stock Exchange as the ground zero of cannabis speculation. Last Friday the exchange used a lottery to allocate the much-coveted POT ticker to a tiny Vancouver-based cannabis company. Nothing else changed, and POT's market value rose $C15 million ($16 million), which is about half as much as the actual business.
Coincidentally, BHP tried to buy POT two years ago when it was the Potash Corp of Saskatchewan.
Given the nature and history of the product, establishing a serious corporate image is one of the challenges of investing in recreational drugs. Smoking on the job is not cool. Most executives present as buttoned-up businessmen and women.
Asked if his board and management had experience of drug use, MMJ's Hallam replies: "Certainly not. Our business is funds management."
In Canada, the next big opportunity is illicit edibles. Cannabis-infused food and drink will be lawful in Canada no later than October 17 under the second stage of legalisation. Marijuana beer is already being developed by beverage giant Anheuser-Busch InBev.
History shows that big companies rarely emerge as leaders of new industries. When it comes to recreational drugs, picking the future Facebook is probably impossible. But it could be a trip to try.