Man accused of abducting and murdering schoolgirl confessed to police, court hears
In an opening address on Monday, Crown prosecutor Patrick Barrett said evidence will show Mr Tarantino took Quanne from Factory Street in Granville, strangled her, then disposed of her body in bushland south of Sydney.
The Crown case is that Quanne was last seen speaking to the driver of a white van and getting in.
Mr Barrett said Mr Tarantino made "genuine confessions" to killing Quanne to four people in the years afterwards, including two of his girlfriends, and confessed to police and one of his brothers in 2016.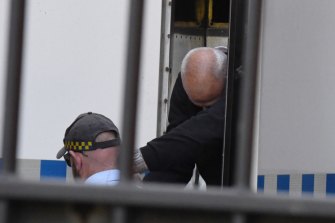 He said one of the confessions unfolded when Mr Tarantino met up with a friend in late 1998 and told him "he'd taken an Asian girl, things went horribly wrong, she wouldn't cooperate".
"He used the expression 'cancelled her out'," Mr Barrett said.
He said the same year Mr Tarantino told his then-girlfriend, Laila Faily, "that he had kidnapped Quanne and done so because he wanted to get a ransom".
"He went on to say that he picked her up from near Clyde station … he told her she was meant to be a hostage but she was making too much noise," Mr Barrett said.
The jury was told that Mr Tarantino walked into Surry Hills police station in November 2016 and said: "I need to speak to someone. I need to hand myself in for a homicide. It's all been building up for me and it's too much."
He then spoke to police in an interview, where he said what happened was "a stupid ransom attempt" that went wrong. "I did something to her … I killed her … I took her life," Mr Tarantino said. "I think I strangled her, just with my hands."
The court was told Mr Tarantino called his brother to say he was handing himself in and said, "I'm going to be charged with murder … I killed a kid."
Mr Tarantino led police in November 2016 to an area in Sydney's south where he said he buried Quanne's body. He told investigators he had taken a wheelie bin with her body, dug a hole in the bush and buried her there.
His former girlfriend Ms Faily is expected to give evidence that she was present when Mr Tarantino drove to a national park in a white van, stopped at the side of the road, then removed a wheelie bin and returned an hour later.
Mr Tarantino's barrister Belinda Rigg, SC, told the jury there is no issue that "something must have happened to Quanne Diec on the way to school … by someone who had criminal intentions" but the issue was whether that person was her client.
She said the defence "disputes completely" that Mr Tarantino made admissions to some of the witnesses, and said her client's admissions to police were "not true" because he was in fear for his life and believed he needed to confess to save himself and his family.
Two doctors are expected to give evidence that Mr Tarantino likely suffers from a significant mental illness, such as a schizoaffective disorder or schizophrenia.
Ms Rigg said there were "specific other alternative theories" about how Quanne was kidnapped, including other white vans in the area. One white van along Quanne's route to school, she said, was driven by a mail centre worker who had "deviant views" regarding Asian women and frequently spoke about what he wanted to do sexually to 10-year-old to 12-year-old girls.
The trial continues.
Georgina Mitchell is a court reporter for The Sydney Morning Herald.