Lynas drifts as fundamentals back in focus
Bulls like Greencape Capital are not going anywhere, but there are funds below the substantial mark pushing through sell orders.
In that context, Tuesday looms as an important day, with Lynas due to report its March quarter earnings and cash balance. Fundies will be watching for an update on two key drivers.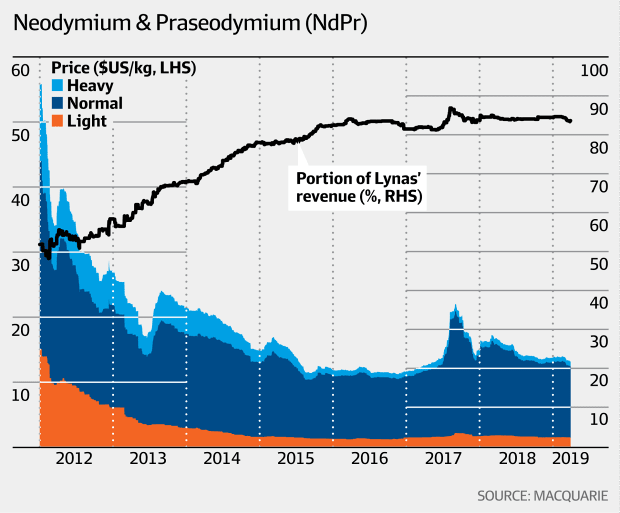 The first is the realised NdPr price, relative to forecasts. There are a bunch of long-term broker forecasts for the two metals, but hardly the in-depth study you would find for its copper, coal or iron ore forecasts. Long-term broker forecasts at $US64/kg are well above spot price ($US39/kg) and 60 per cent higher than Lynas' disclosed price for fiscal 2018-19.
The second is capital expenditure and the likely cost of a "cracking and leaching" plant Lynas may need to build back home in Western Australia. Sell-side estimates have ranged from $100 million to $500 million. [For context, Lynas had $53 million in the bank and debt to shareholders equity of 52 per cent as at December 31].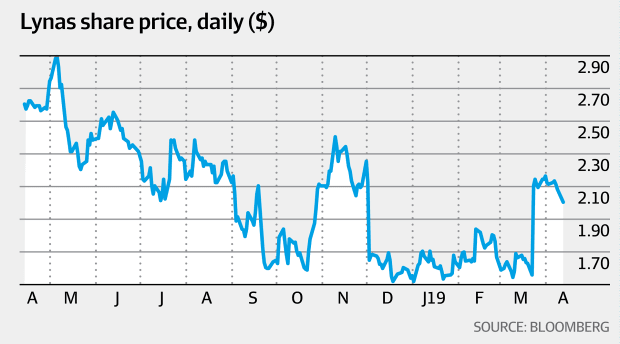 The last time Lynas was in the building phase was in 2010, when it spent more than $US150 million for the first two kilns and associated infrastructure at its LAMP facility in Kuantan. Add Western Australian labour rates, and the need to build a permanent disposal facility, and it's easy to see how the top half of that range would appear more likely.
The question, of course, is whether Wesfarmers will keep banging its head against a closed door. It's the one thing that could prop up the share price heading into the all-important June 30 year end for fund managers.


Source link Finance News Australia