lack of information exposes Sydney's river users
"We do not test for bacteria to make an informed judgement," he said, adding the lack of publicly available data "drives me insane".
"Beachwatch has been running for more than two decades and it should be also used for swimming sites in Sydney's western suburbs rivers."
The concerns seem widespread. A survey commissioned by Ocean Protect  of 1000 Australians found marine and river health topped all other concerns related to population growth, including housing density and traffic congestion.
Almost six in ten weren't satisfied with the health and cleanliness of their waterways, including two-thirds of those aged between 18 and 24.
'Central issue'
A spokesman for Environment Minister Gabrielle Upton said the Coalition "would consider extending the Beachwatch program to western Sydney rivers in its next term of government".
Penny Sharpe, Labor's environment spokeswoman, said her party would do the same if it won office, and said river health had been "a central issue" in the state election campaign.
"Labor is going to improve our urban waterways through implementing water-sensitive urban design planning policy, and if elected we will work with the federal Labor government to invest in the clean up and restoration of Sydney's rivers."
Justin Field, the Greens water spokesman said the Berejiklian government had a "track record of neglect for our waterways, with pollution, storm-water runoff and sewerage overflows characterising many of our inland rivers".
"Why would they want to highlight this neglect through frequent water-quality reporting?"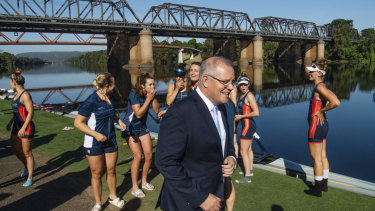 'Developer gift'
Sharyn Cullis, from the Georges River Environmental Alliance, said Sydney waterways – which also include the Parramatta River and the Cooks River – "deserve the very best in protection".
Instead, in "a truly disgraceful change", the O'Farrell government altered regulations in 2012 to allow "controlled actions" within protected riparian zones, Ms Cullis said. Stormwater works, pathways and other infrastructure were then permitted within wildlife and vegetation corridors.
"It clearly gives a developer a profit 'gift' at the expense of the environment, as the necessary services to support the development do not have to be accommodated within the development footprint [such as a housing project]," she said.
Out west, Penrith City Council has begun testing at three locations on the Nepean River.
"There hasn't been enough sampling events completed as yet for the data to be relied upon," a spokesman said.
Chris Amit, Hawkesbury City Council's acting director of infrastructure, said the council had also started water quality monitoring recently to collect data on the health of the river system.
"This data will enable council staff to produce an annual report on Hawkesbury River health," he said. "These reports will be publicly available and it is anticipated that the first report will be available in July."
Peter Hannam writes on environment issues for The Sydney Morning Herald and The Age.
Most Viewed in Environment
Loading