Labor's franking policy may force retirees to move money overseas
Townsville accountant Carl Valentine from PVW Partners said Labor's proposal on franking credits would have a huge impact on self-funded retirees and could force them into looking at alternative investment strategies such as property, fixed income or potentially riskier overseas shares to make up the shortfall.
While Labor says the policy will most affect wealthier people, Mr Valentine says the biggest group who will be hit by the tax change will be self-funded retirees with a nest egg below the $1.6 million transfer balance cap.
"It's fair to say there will be some wealthy people impacted, but the bigger group of people affected are those who have scrapped and saved their whole life. It does seem inequitable that a policy that has been in place for 20 years is going to be changed," he said.
"I think there is the potential to see the flow of capital out of Australia into overseas markets."
Another retiree named Tim said the removal of the franking credits refund would affect his ability to fund retirement. "The result being for the first time in my life I will not be voting Labor," he said.
The policy was self-defeating and not very well thought through, according to John Mayo, a former economist from Cairns and member of the Association of Independent Retirees who addressed the hearing on Tuesday.
"They just want to push people into union funds," he said.
Mr Mayo said a survey of retirees found they would donate less to charities if the policy was introduced.
Retirees at the committee hearing called on the ALP to amend the franking credits plan if they weren't going to scrap it if they win office at the next federal election. The hearing was told Australian companies would become less attractive for investors.
Pay down debt
But Labor finance spokesman Jim Chalmers said they had no plans to introduce a grandfather clause for the franking credits policy, which the ALP did for their negative gearing policy.
"We've been upfront with people and said that that tax arrangement is unsustainable and we need to fix it. No other country does it in the generous way that we do. We want to go back to the system that existed in Paul Keating's day before it was changed in 2000," Dr Chalmers told Sky News.
"And by doing that, we can make the tax system fairer, pay down debt that's accumulated under the Liberals and invest in growth and the economy."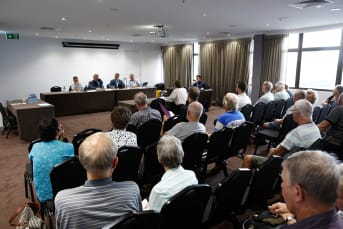 Committee chair and Liberal MP Tim Wilson said the franking credits issue could come back to haunt Mr Shorten and Labor at the ballot box.
Labor's controversial policy will remove a cash refund if a person has franking credits of a value greater than the amount of income tax that person owes in a given year. The main people affected by the policy will be shareholders who have non-taxable incomes, of which retirees will make up a large portion.
"It's going to bite them on the bottom nationwide but obviously Queensland is particularly important because there are so many self-funded retirees who move from big cities to have comfortable retirement and stand on their own two feet," Mr Wilson said.
"Now they find out Bill Shorten is going to cut them off at the knees, in many cases between $5000 and $10,000 a pop, so it's not only serious politically, but serious for people's level of financial security."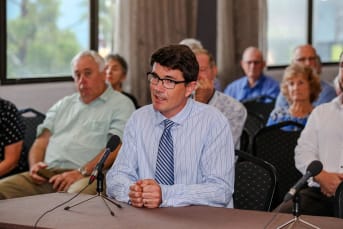 Mr Wilson said the thousands of submissions to the inquiry showed there were a lot of people who had a modest income of $30,000 to $40,000 a year who were set to lose on average between $5000 and $10,000 a year through Labor's tax changes.
The committee hearings will continue on the Sunshine Coast and Brisbane on Wednesday followed by the Gold Coast on Thursday.


Source link Finance News Australia