Labor prepares to release policy costings
Labor will deliver a bigger budget surplus each and every year, Shadow Treasurer Chris Bowen has announced in his policy costings announcement.
The "Fair Go Budget Plan" boasts of bigger investments in health and education, fairer taxes, bigger budget surpluses and cost-of-living relief.
At a press conference in Canberra, Mr Bowen said a Shorten government will reach a surplus of one per cent of GDP four years earlier than the Coalition's forecast.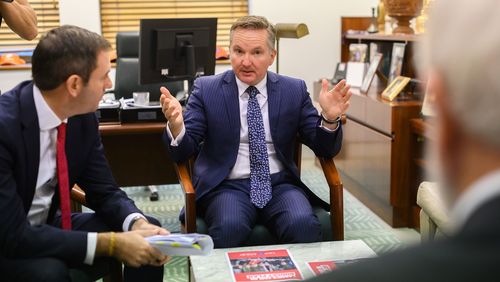 "Australia's economy needs a buffer," Mr Bowen said.
"We are ready for government. We're ready to serve to Australian people."
Mr Bowen said Australia had a "two-class tax system".
"If your income comes from a certain place, you have good accounting advice, you get access to the first-class tax system," he said.
"If you are a normal payer, with the very basic deductions, economy class for you."
The populist-tinged policy costings touted a crackdown on multinationals avoiding paying taxes.
"Workers and pensioners will pay less for their healthcare and childcare because multinationals will pay their fair share," Shadow Finance Minister Jim Chalmers said.
"In Scott Morrison's Australia, workers and pensioners will pay more so that multinationals can pay less."
Dr Chalmers took a serious swipe at the Coalition in his announcement.
"What we're doing today is exposing what is arguably the biggest lie of this entire campaign. That is that the Liberals have done a good job of managing the economy.
"Saying that the Liberals have done a good job managing the economy is like saying Clive Palmer did a good job of building a dinosaur park."


Source link Finance News Australia