HSBC pushes into home loan market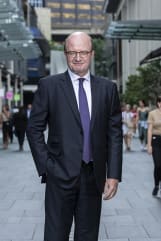 This compares with AMP Bank's market share of 0.8 per cent but less than ING's (2.93 per cent).
In the year ended December 31, HSBC's Australian division posted profit before tax of $US463 million ($620.4 million), which represents double-digit growth on the previous year.
In the past two years, the bank has opened seven more branches, mainly in the suburbs of Sydney and Melbourne, and now has 38 branches in Australia. This year it plans to open two branches in Claremont, a Perth suburb, and in Barangaroo in Sydney's CBD.
Mr Tricaud said customers were not visiting branches as often, but they still preferred to see a banker in person for home loans.
More visibility
"They could almost entirely avoid going to a branch, even for the account opening process or mortgage applications. But we still see a number of customers who prefer to come to a branch, in particular for mortgages. So we still see some relevance [of branches]," he said.
"We want HSBC in Australia to become a little bit more of a household name, to have a little bit more visibility in the market."
This move comes as big-four banks are trying to cut costs by closing branches and cutting staff.
HSBC's approach is a contrast to digital-only bank ING, which has managed to become the fifth largest bank in Australia in mortgages and retail savings despite having only one actual "branch", branded as an ING Lounge, in Sydney CBD.
Meanwhile, since 2016, competitor Citi has shut more than half its branches in Australia to just four but instead is opening wealth centres to offer face-to-face advice to sophisticated investors.
Global-oriented products
HSBC also started working with mortgage brokers 18 months ago. Before that, the bank was only selling mortgages directly to customers, which meant it could reach at best 45 per cent of potential customers.
"[Mortgage broking] acts in favour of competition. It provides simplicity and easiness for customers to compare propositions, and we benefit from that because we have a very strong proposition," he said.
At the same time, HSBC is trying to tap into Millennial and professional customers more by increasing its global-oriented products, such as a multi-currency account associated with a single debit card.
On the Hayne royal commission, Mr Tricaud said it was a "riveting moment" for the Australian banking industry. "We were not called in the hearing, but in the past we had our share of issues," he said.
HSBC admitted to the Hayne royal commission a range of serious wrongdoings over the past years, including giving inappropriate advice to clients, which resulted in HSBC entering into a three-year enforceable undertaking with the corporate regulator.
It also admitted to running potentially misleading home loan and credit card advertising and failing to report certain cash transactions to AUSTRAC as required under anti-money-laundering laws.
"I have found the royal commission report very wise, balanced and a very strong base for the industry to move forward," Mr Tricaud said.


Source link Finance News Australia