How Telstra is the Forrest Gump of the sharemarket
Brokers are also cheering from the sidelines, assuredly glad to see such a widely-held name do well after years in the wilderness. A perusal of Bloomberg shows the stock earns 10 "buy" recommendations, four "holds" and two "sells" from the analyst community.
The last time the telco's shares were this popular with "the street" was way back in 2011, when the stock reached similar depths in terms of valuations and price. And you need to go back to 2008 to find a time when the consensus was more positive – a very different time indeed.
What's going on?
The first thing to recognise is that the story of Telstra in 2019 is part of a wider narrative around this year's U-turn from central banks. Global equities recorded their best start to the year after the US Federal Reserve abandoned its plans to lift rates in 2019, which sparked similar comforting words from other major central banks.
As global bond yields plummeted in response (Aussie 10-year rates are at all-time lows), investors flocked to stocks such as Telstra which are considered "bond proxies", or safe sharemarket alternatives to the measly income on offer from the bond market.
But it's not just the rising tide that has been floating this boat.
In recent months a number of the challenges that have plagued the telco and weighed on its prospects and profitability have eased, playing their part in the resurrection of Telstra.
It started with the announcement in August last year that rivals TPG and Vodafone planned to merge. Investors were heartened about the prospect of a more favourable competitive environment of three rather than four players (the other being Optus).
Also that month, the government announced it would block Huawei from rolling out Australia's 5G network due to security concerns. This was a body blow to Telstra's competitors, which had planned to use the Chinese telco's equipment for the roll-out of their 5G mobile networks.
As a result, "Telstra will be well ahead ahead of Optus and Vodafone in providing 5G" in Australia, Investors Mutual portfolio manager Hugh Giddy says. That offers Telstra a powerful first-mover advantage in hoovering up more lucrative commercial and individual 5G customers.
No surprise, then, that Telstra shares lifted 9 per cent in that month.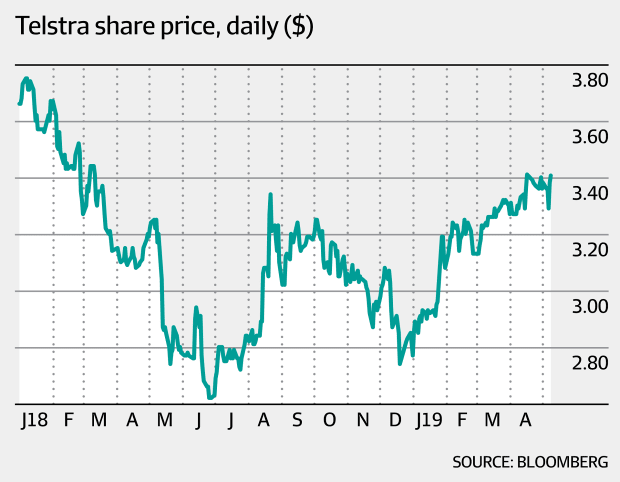 Prospects obscured
But the telco's improving prospects, at least as far as its share price was concerned, were obscured by the whirlwind that buffeted sharemarkets through the final quarter of last year.
Then, even as the stock bounced in 2019 alongside global markets, there was more good news for Telstra. Optus flagged in April it was lifting some prices, putting an end to a long period of trying to win customers by undercutting Telstra.
"People are thinking the competitive intensity is easing off a bit," T Rowe Price fund manager Randal Jenneke says.
The competition regulator's decision this week to block the merger between TPG and Vodafone Australia has also been seen as a positive as it delays the emergence of a more muscular competitor. Jenneke expects the court challenge to the ACCC's ruling may stretch into 2020.
Then there's the potential for a new Labor government to write down the value of the National Broadband Network, which would allow the NBN to offer lower wholesale prices to the retailers. This raises some prospect that Telstra could boost its margins by not passing all the price reduction on to consumers.
All of this shifts the dial, but the consensus among investors and analysts is still that Telstra has little growth on offer. And that suggests a lower dividend. JP Morgan analysts – who are recommending clients to buy the stock – have Telstra paying 16¢ per share in the 2019 financial year and beyond, from 22¢ in the 2018 financial year. This lack of growth is why Jenneke is not an investor in the stock.
IML's Giddy, who is a shareholder through the IML Aussie share fund, believes a dividend of 18-20¢ per share is sustainable.
The shares trade on a 12-month forward price-to-earnings ratio of 15.4, and a yield of 5.6 per cent, before franking. Based on Bloomberg consensus forecasts, a lower expected dividend in coming years puts the stock's yield at 4.7 per cent, so still reasonable.
Is there still value in the stock? Not as much as when the shares were trading at $2.62 in the middle of last year, sure, and perhaps at $3.38 the improved outlook for the telco may be well in the price.
But it the developments of the past 10 months could mean Telstra is no longer a taboo topic for the clients of financial advisors. Individual and professional investors may feel they can invest for the yield without the fear of losing half their money in capital losses.
Hopefully Telstra, like Forrest Gump, can keep running for a while yet.


Source link Finance News Australia