Concrete Genie review: a brush with brilliance
It's clear that Concrete Genie is a labour of love made by a small team that really believes in the pro-tolerance, anti-capitalist leanings of the story, and the central interactive street art creation makes for an experience that looks and feels like no other. Yet while this is a vital and worthwhile game you're left to make your own fun a lot of the time, so your enjoyment will depend on how committed you are to painting virtual murals.
Creating genies and painting scenes is simple and results in complex, whimsical designs no matter how handy you are with a brush. It's more about coming up with an idea for the composition than having the skill to create it. You gain access to new themes and concepts by collecting pages, and you move the controller around to put them on the wall.
I love that every tool has its own musical accompaniment (and in fact the entire game has a subtle, joyful soundscape), and as you go you'll discover tricks like how to make cherry blossom trees more bendy and gnarled, or how to create really thin tall totems.
Impressively your art is all persistent, so you can revisit and add to it at any point. It's fully animated, with rain clouds creating rainfall and water lilies bobbing on top of a moveable waterline, and the paintings radiate neon colour to tangibly shift the feel of areas from grim and blue to warm and wonderful. Genies are similarly ripe for injecting your own personal touch into the game, as you can Frankenstein them together with various elements and the game (mostly) seamlessly brings them to life.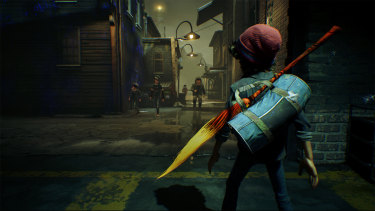 The game never judges your drawings or guides your creativity — except in a handful of cases where genies have specific requests for what elements you should include — you just have to paint on certain walls and figure out the way forward to progress. In a way this is nice, as you can experiment with the tools and come up with an aesthetic you like rather than the art being prescribed. But it also means you could do the bare minimum and end up with a town of splodges and wavy lines.
Still, any time I did a rushed job I ended up feeling bad. The genies love playing in the magic worlds you create, and the game does a good job of showcasing your work when you finish an area, so I felt compelled to try my best.
There's a really nice message throughout, especially for younger players, that bullies are created by unfortunate circumstances and are deserving of compassion. Towards the end, pain and negative feelings are manifested as dark genies that you need to fight, presenting these forces as the true enemy rather than the gang of children that had been stalking and tormenting you.
It's a beautiful thought, but I found the combat against these genies was a less fun time than the contemplative art-making and light puzzle-solving that makes up the bulk of the experience.
Though the game's easily short enough to be completed in a weekend, the journey is satisfying and there are enough odds and ends to find — including newspaper clippings that give narrative background on how industry ruined a happy town, and gorgeous unlockable concept art — to give completionists an excuse for repeat plays. Those who really get into the art creation will be particularly pleased, as almost every vertical surface in the game is available to paint on.
Concrete Genie is out now for PlayStation 4.
Tim is the editor of The Age and Sydney Morning Herald technology sections.
Most Viewed in Technology
Loading