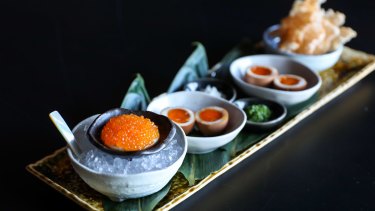 With no sushi coming from the raw bar, Chuuka presents instead a "caviar service" of three different roe options. Choose from Yarra Valley trout roe ($38), Tasmanian sea urchin ($48) and Oscietra caviar ($115), teamed with a lush cashew cream, soft-centred Chinese tea eggs, and potato rice crisps. Order all three and they'll throw in the dry-ice theatrics. The combination of trout roe and cashew cream sounds counter-intuitive, but is both rich and refreshing.
Furls of freshly sliced raw salmon are dressed with a spicy chilli bean, sweet bean and ume plum sauce with a funky little salad of tomato, celery, coriander and crunchy bits of fried Chinese bread ($19). Not sure where it's coming from, but it's enjoyable enough.
The most coherent dish is a bowl of silky set custard enriched with foie gras and topped with a slurry of blue swimmer crab in a carrot and ginger shellfish sauce ($13 a head). Gentle, rich and comforting, it hovers somewhere between chawan mushi and China's savoury tofu custard "dou hua". This style of clear, thickened sauce is something of a feature of Chuka cuisine, with a similarly eggy scramble of fresh scallops and blue swimmer crab pooling over the tenshindon fried rice ($35).
The big crowd-pleaser is tempura yuzu chicken ($24), a sort of sweet-and-sour chicken nuggets for grown-ups that will press all your lemon chicken buttons. But I'm tiring, by now, of all the mash-ups, and yearn for something with a single focus.
Miso-glazed Glacier 51 toothfish ($59) almost does it, the four medallions of this amazingly rich fish given a similarly sweet umami profile to Nobu's famous miso black cod (Kojima once headed up Nobu kitchens in Dubai, London, LA and the Bahamas).
The origami-style dessert menu lists a gentle jasmine tea-infused mousse ($14), with purple yam ice-cream and sweet potato tuile (more of those glutinous tapioca balls, please, they're fun).
It's an intriguing dining experience, fuelled by cocktails, a pricey wine list, and keen young staff in the kitchen and on the floor, but I'm just not convinced by the concept.
For Australian diners who know how good both Japanese and Chinese cuisines can be as singular entities, combining them seems like a compromise of both. But hey, Chuuka is Chuuka, right?
The lowdown
Chuuka
Score: 14/20
Address: Suite 62-64 Jones Bay Wharf, 19-21 Pirrama Road, Pyrmont, 02 9657 9882, chuuka.com.au
Open: Lunch Tue-Sun noon-3pm; dinner Tue-Sat; bar Tue-Sun from noon
Vegetarian: Two medium dishes, one main course, three sides
Drinks: Bespoke cocktails, six sakes, 19 champagnes and a solid NZ/Oz/Italian wine list, strong on riesling, chardonnay and pinot noir
Cost: About $160 for two, plus drinks
Go-to dish: Trout roe with cashew cream, tea egg and potato and rice crackers, $38
Pro tip: Daily specials of lobster, mud crab, whole fish and Peking duck aren't listed on the menu, so ask.
Terry Durack is chief restaurant critic for The Sydney Morning Herald and senior reviewer for the Good Food Guide. This rating is based on the Good Food Guide scoring system.