Call for Australia's Pacific membership to be suspended over coal
Loading
"It is supposed to be about the well-being of the members," Mr Tong told The Sun-Herald and Sunday Age.  If one country causes harm to other nations, such as by fuelling climate change, "there should be sanctions".
He cited the recent approval of Adani's Carmichael coal mine, which potentially opens up a whole new coal province in Queensland, as an example of "ignoring the science that's coming forward".
'Pick our fruit'
It comes as Mr Morrison was forced to downplay comments by deputy prime minister Michael McCormack that Pacific island nations will "survive" the climate crisis because they can "come here and pick our fruit".
Asked about the comments, which were caught on camera at a business function, Mr Morrison said Australia had "the deepest engagement and biggest commitment of any nation in the world in the Pacific".
"We're there for the difficult conversations, we're there for every type of conversation with our Pacific family," the prime minister told reporters on the sidelines of the Liberal party's state conference in Adelaide on Saturday.
"Just like any family that comes around the table we discuss all these things through … And regardless of whatever issues we have to work through at the time, our Pacific family knows that Australia will always be for them."
'Insulting'
Mr Tong said he had not attended the event in Tuvalu but had followed developments. These included comments from Fijian Prime Minister Frank Bainimarama, who described Mr Morrison as "very insulting and condescending", according to The Guardian.
Mr Morrison pledged half a billion dollars in aid – most if not all redirected from other programs – before the Pacific gathering. He had also hoped to shore up support for Australia in a region where China's economic and strategic reach is expanding.
"The [Pacific] nations don't always see China as a threat, nor do they see it as a big a threat as climate change," Mr Tong said.
In the Guardian interview, Mr Bainimarama also drew a comparison between China and Australia's approach, saying "China never insults the Pacific."
"They don't go down and tell the world that we've given this much money to the Pacific islands," he said. "They don't do that. They're good people, definitely better than Morrison, I can tell you that.
'Stark reality'
Kiribati's 32 islands, spread over an area about half the size of Australia, have an average height above sea level of just two metres. "Super tides are expected at the end of the month," Mr Tong said.
Ms Kyte, a Special Representative of the UN Secretary-General, said it was "unfortunate that even the stark reality of life on Tuvalu" – which also faces being inundated as seas rise – had failed to budge Mr Morrison on coal.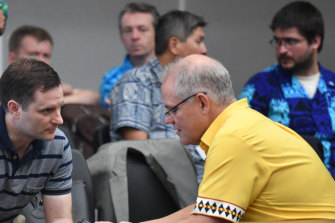 "Coal will not help provide Australians affordable energy in the short, medium or long term, it will not protect air quality and the lives of children, and it will not deliver more jobs than a robust clean energy system," Ms Kyte said.
Instead, burning and exporting the fossil fuel would "endanger the environment, threaten jobs and expose even more Australians who are already suffering from the volatility of extreme weather", she said.
"This approach to coal is not only shortsighted, it's reckless and cruel."
'Founding partner'
Marise Payne, Foreign Minister, also downplayed any risk of Australia's suspension from the forum, noting the country had been a  founding member of the Pacific Islands Forum in 1971.
"We are working to implement the Boe Declaration, which we signed along with other Pacific nations last year, declaring that climate change threatens the livelihoods, security and wellbeing of the Pacific peoples," Ms Payne said.
Last week, forum members also agreed to the Kainaki II Declaration, which called on all countries to take action to address climate change.
"We are a part of the forum and will remain engaged," Ms Payne said, adding that Australia would contribute $1.4 billion this year to "address our partners' priorities".
Additional reporting: Dana McCauley
Peter Hannam writes on environment issues for The Sydney Morning Herald and The Age.
Most Viewed in Environment
Loading