Break with tradition and you'll be rewarded at Israeli favourite's newest outpost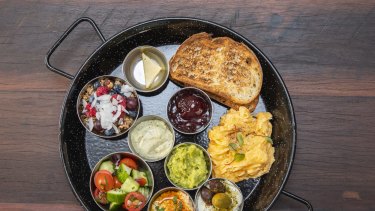 The best bet, it seems, is to try different versions of a known favourite. An investigative deep dive of your usual, if you will. At Shuk, the owners are well-versed at creative spin-offs. The popular North Bondi Israeli cafe has just opened its third and newest outpost – Shuk Elizabeth Bay. It's a low-key, stylish sibling to the Bondi and Chatswood brunch spots. Same sunny interior. Same house-roasted coffee. And importantly, same treasure trove of freshly baked sourdough, challah and Jewish pastries.
Friends and owners Erez Beker, Ariel Hefer and Yoni Kalfus are all about finding new ways to please adventurous brunchers while keeping fans happy. Thanks to Israeli-Argentinian head chef German Sanchez's sprawling menu, this middle ground is happily met.
"Breakfast is the centrepiece of our culture," says Beker, who was born in a small town outside of Tel Aviv. "I grew up surrounded by at least 10 or 15 different cuisines. From Moroccan to Persian to Iraqi to Algerian – that kind of shaped our kitchen and the way we cook."
This multicultural influence comes through in the use of ingredients such as teff – an Ethiopian whole grain that forms the basis of the spongey injera flatbread. Here, teff is integrated in everything from falafel to pancakes to its gluten-free sourdough, adding a nuttiness to classic items that also up their "superfood" value.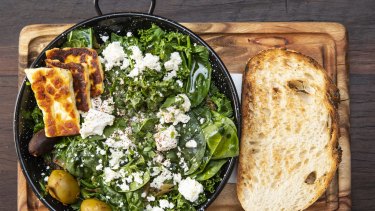 Start your own Israeli breakfast adventure with the Sabich bowl – a colourful mix of slow-cooked eggs, salad, tahini, smoked eggplant, as well as crunchy morsels of broken falafels that are fragrant with fresh herbs, chickpea and teff.
"Sabich came from the Jewish people from Iraq, it's a dish that we eat every Saturday morning," says Beker, "The highlight of this dish is the mango chutney. Because the Iraqi jews used to trade with India in the 1800s, they actually brought a lot of Indian spices back into Iraq. That's how amba – made with green mango, fenugreek and curry spices – came to be in it."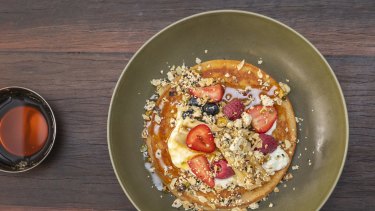 For shakshuka fans, there are plenty of options that depart from the tomatoey usual. Our favourite is the green shakshuka, a rich, vego-friendly dance of caramelised onion, sweet fennel, zucchini, feta and runny eggs topped with leaves of crisp kale. You can up the ante with a side of melty grilled haloumi or add protein such as chorizo or sujuk (a spicy sausage).
Variety can also come in a classic spread. If you're keen to try Shuk's best (and have the appetite to match), get yourself the Israeli Breakfast. It's a generous example of a "weekend breakfast" – with olives, silky labne, housemade hummus, avocado, sweet and savoury spreads as well as "eggs your way" and granola. It's the kind of order that elicits instant food envy and, thanks to the sheer variety, is the best defence against breakfast regrets.
If you have room, round out your meal with the teff pancakes. The dark, fluffy discs are laced with ricotta, mixed berry and a sweet dukkah. But you'll do well to pace yourself with the sprawling menu. With a spot like Shuk, the biggest risk is to miss out on a return visit.
THE LOWDOWN
Main attraction: A low-key outpost of a popular Bondi Israeli cafe that bakes its own bread and specialises in shakshukas that go beyond the tomatoey breakfast classic.
Must-try: The Sabich bowl – a colourful, picture-perfect dish with nutty broken falafel, smoked eggplant, and salad served on a bed of housemade tahini.
Insta-worthy dish: Your photo of the generous Israeli Breakfast would be ultimate proof it's worth getting up early for a luxurious, sweet-and-savoury spread.
Drinks: $3.5-4 coffee by Shuk; $4-$4.5 tea by Shuk
Prices: Breakfast $9.50-$21; lunch $16-$24.
Hours: Sun-Thu 6am-5pm; Fri-Sat 6am-10pm
IN THE NEIGHBOURHOOD
PENNY'S CHEESE
4 Roslyn Street, Potts Point
A tiny cheese castle of the inner east, Penny Lawson's one-stop shop is what every curd lover dreams of. We're talking fresh tubs of burrata and stracciatella, personalised slices of hard-to-pronounce cheeses such as the challerhocker, and of course, her famous golden cheese toasties.
OSAKA BAR
Shop/50 Llankelly Place, Potts Point
In Sydney, where new restaurants regularly come and go, opening a five-seat sushi bar is a gutsy move. But chef Kazuhito Nakatani is committed to giving his customers maximum attention at Osaka Bar with his omakase menu (chef's selection sushi). Book now before everyone finds it.
CAFE YUCCA
1/1 Elizabeth Bay Road, Elizabeth Bay
An endearing local cafe with a Japanese twist, this laid-back spot may be hard to find, but its food is worth the mini hide-and-seek. Try the miso-scrambled eggs, tofu and edamame toastie or the umami-packed soy butter mushroom on toast. Look out for house-baked matcha treats.
ANDREW (BOY) CHARLTON POOL
1c Mrs Macquaries Road, Sydney
There are certain spots in Sydney that make you acutely aware of how lucky it is to spend summer here. The Andrew (Boy) Charlton Pool is one of them. Perched on the shore of Woolloomooloo Bay, this dreamy salt water pool even comes with its own licensed cafe and a yoga studio.