Boom times for Ferrari Australia as sales records tumble
"We focus on them and we are not really that interested in what the ABS has to say about the economy. We are certainly not seeing any change in our market at all."
Notwithstanding the vast resources of most owners, around 25 per cent of Ferrari owners use finance. Last year the company unveiled a partnership with Macquarie as the backer of its Australian finance arm.
Ferrari Australasia is gearing up for a big weekend of entertaining across the four days of the F1 Australian Grand Prix where it will host close to 500 visitors at Melbourne's Albert Park racecourse.
The race will have special significance for the fans of the prancing horse as Ferrari driver Sebastian Vettell attempts to win his third consecutive edition of the race – a feat not completed since Ferrari's Michael Schumacher won in 2000, 2001 and 2002.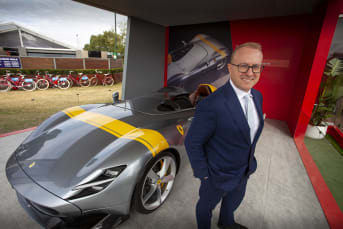 This year Ferrari also will debut its Red Lounge where 100 members of Ferrari's extended family – read owners – will sip champagne and nibble on antipasto at the conclusion of each race day. During the day, Ferrari fans can drop by for a branded water bottle or a scoop of gelato.
Mr Appleroth estimates the investment in the Red Lounge at more than $500,000 over the four days. The event is just one of 160 the brand holds for owners each year and Mr Appleroth is adamant the last thing they are about is sales.
"I don't think there is anything less sexy than talking about a sale. A sale is not something the Ferrari brand does. We are here to build relationships and form relationships – we realise dreams."
One of the problems the brand is having is that demand is outstripping supply to uncomfortable levels.
"We are collecting far more orders than we have done; the waiting lists are getting too long," Mr Appleroth said.
While exclusivity is part of the appeal, Ferrari thinks it is unreasonable to expect customers to remain on a wait list for more than 12 months.
To address this the company has earmarked a €650 million ($1.04 billion) investment in production, which will bring to market another 15 models with five to make their debut over the next 12 months.
The number of Ferrari owners in Australia is thought to be in the mid four-figure range. Around 300 of those will make a pilgrimage to the Ferrari factory in Maranello to customise their cars and pay their respects.


Source link Finance News Australia