BeyerDynamic Lagoon ANC review: noise-cancelling, ear-friendly wonders
It would, perhaps, have been better if the foam on the ear cups had been a little thicker, because they started to feel tight on the arms of my glasses after a couple of hours. And some extra distance between the back of the cup and my ear would have been appreciated, because it pushed my earrings into my head.
That said, if I adjusted my glasses periodically, and got my earrings to lie flat, they were comfortable for a solid four hours of continuous wear.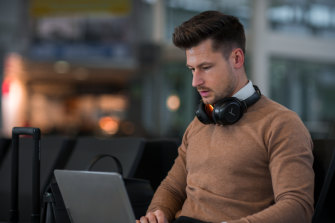 The battery life is spectacular. The specs claim 45 hours of listening time with Bluetooth but without active noise cancelling (ANC), and 24.5 hours with both Bluetooth and ANC. I've listened to them with both Bluetooth and ANC on all week and haven't had to charge them once.
BeyerDynamic is also known for having an app with a six-minute hearing test to adjust the EQ to your hearing needs. I'm not entirely sure if it really did help me hear frequencies I'd otherwise miss, but the sound was certainly much fuller with my personalised mix applied.
On the subject of hearing loss, the app also tracks your listening, and lets you know when you need to turn the music down, or when you've reached your limit for the day before you start doing damage.
Loading
Noise cancelling is obviously a major focus of any headphones with ANC right in the name, and it's good. It's not the strongest on the market; the Bose Quiet Comfort 35 IIs still blocks out more noise. But it blocked out enough on a full flight to suit my needs, and it didn't have that weird pressurised feeling you sometimes get from more intense ANC.
One odd, yet surprisingly useful, feature is the LED rings inside each ear cup. They don't shine while you're wearing them, but it's a nice way to tell at a glance when you take them off if you're connected to Bluetooth, if the battery is running low, or if you've reached your healthy listening limit for the day.
All in all, the Lagoon ANCs are some of the best sounding headphones you can get at the moment, and for $599, they would want to be. They're not perfectly suited for long listening sessions for those with chunky glasses or a lot of metal in their ears. But they are well-made and have a battery that will get you to Europe and back with time to spare for layovers.
Alice is a freelance journalist, producer and presenter.
Most Viewed in Technology
Loading