AustralianSuper attracts flak as Qantas Frequent Flyer offer comes under fire
A spokesman for AustralianSuper dismissed the claims.
"We considered these matters thoroughly before proceeding. We obtained legal advice to confirm we were complying with our legal obligations," he said. "We are satisfied that it is in our members' best interests and that the Qantas initiative does not contravene the sole purpose test or other regulatory obligations."
The value of air miles
The only other super fund to offer air miles is Virgin Money Super, which has about $500 million under management, and offers 1 Velocity Point for every $5 contribution, according to finder.com.au, which monitors financial rates and products.
BT Super, which is part of the Westpac Group, allows scheme members to turn Westpac Altitude Rewards points into super contributions.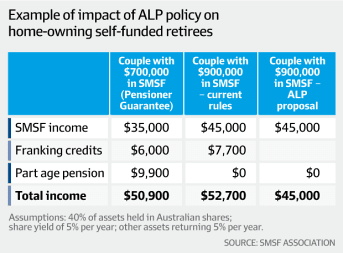 The AustralianSuper offer is to new members who contribute a minimum of $350 within six months of joining.
The offer, which is only available to Qantas Frequent Flyer members, could include additional fees and charges.
Twenty-thousand points will buy a $100 David Jones gift card, which is worth 16,530 points, or a $321 economy return flight from Sydney to Melbourne, which is worth about 16,000 points, according to Finder.
By comparison, a Qantas Premier Platinum card earns 100,000 points and a Premier Titanium 150,000 points.
Angus Kidman, editor-in-chief at Finder, said: "It's difficult to put a set value on 20,000 Qantas points, but you get more value using them for flights and upgrades than for products and gift cards. If you're not getting at least $20 in value for every $1000 you redeem, you're wasting your points."
Sections 10 to 14 of the offer's small-print terms and conditions remind those considering the offer to "understand their personal financial objectives" and refers them to the scheme's product particulars.
The partnering with the nation's flagship carrier comes as large numbers of new and existing scheme members with bank-owned and AMP retail funds review their managers after damning findings by the Hayne royal commission.
Large sums of money poured out of bank-owned superannuation funds and into industry funds in response to revelations of misbehaviour at the banking royal commission.
AustralianSuper said it received more than $1 billion from new customers in both July and August last year – double the amount compared to the same time in 2017.
AustralianSuper last year overtook AMP as the country's biggest superannuation scheme.
As of last June, AustralianSuper had $120 billion in assets, against $118 billion for AMP, which released its full-year profit results on Thursday.
AustralianSuper lawyers have included an exhaustive exemption clause with the frequent flyer offer: "If for any reason this offer is not capable of running as planned, AustralianSuper reserves the right in its sole discretion to cancel, terminate, modify or suspend this offer."


Source link Finance News Australia