Australian housing slump may force RBA reset, $A drop
"If [the housing market] pops, the RBA will be responding in kind. It will be an independent easing cycle for the RBA and will be likely to put material downward pressure on the Australian dollar."
Overseas investors are monitoring the evolving housing market downturn in Australia but not quite as closely as Australian investors, the strategist said.
"It has been quite interesting from my perspective to appreciate how pivotal this is and how much discussion there is around precisely what is going on," the London-based Mr Meggyesi said.
"There are a minority of international investors who are taking an interest in the housing market but it is a minority," he said.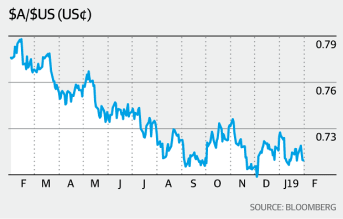 "There is definitely scope for the Australian dollar to come under broader global scrutiny if the housing market does continue to weaken in a way which then does start to feed back to the economy."
Not every overvalued housing market is fated to crash, the strategist acknowledged.
"Canada — well that hasn't quite played out," he said. "Norway wobbled as the oil price slumped but that has stabilised. Sweden feels like it's a permabubble, but once again is not bursting."
Valuation may also provide a bit of a cushion for the Australian dollar in a very deep housing market correction, he said, as the Australian dollar is not obviously overvalued, which could help to prevent a full-blown currency crisis.
"There may be a valuation issue in the real estate market but there is not a valuation issue with the currency. That would provide some resilience to the exchange rate even if the housing market were to undergo a very deep correction," he said.
JPMorgan is forecasting the Australian dollar at US68¢ in a year's time, down from US71.07¢ at present.
"That is predicated on there being a non-malign end game for housing. To take the Australian dollar below US60¢ I think that you would need to see an extreme outcome in real estate."
While the domestic economy is a key driver for the Australian currency, it also has strong links to offshore developments, such as Chinese economic growth.
"There is very clearly a global dimension to the Australian dollar, the bulls would point to a number of offsetting factors," the strategist said.
"There is pressure on commodity prices but perhaps more important is the renewed confidence that the downdraft in the Chinese economy is abating helped by policy makers and the non-escalation of trade conflict between the US and China.
"I think that the point to make, though, is that if the housing market weakens sufficiently the Australian dollar will de-correlate to its global drivers. It will cease to be a China proxy and will become almost exclusively domestic in nature. But we are not at that point yet."
Should a housing market crisis occur, then a specific way to express a negative view on the domestic Australian economy in the currency markets would be to sell the Australian dollar against another China proxy, he said.
"If you go short Australian dollar against the US and you get a big bounce in Chinese growth, that's going to provide a supportive offset for the Australian dollar," Mr Meggyesi said. "But if you sell the Australian dollar against another China proxy then that risk factor ends up being hedged and neutralised."


Source link Finance News Australia