A Willy Wonka tour of Dyson's personal care research labs
After that another engineer on the personal care team, who grew out his hair to test the products on himself, takes us on a tour of the full facility. To get from the general space in the building to the lab area, Henry needs to scan his fingerprint, driving home the top-secret nature of the building. This is the place where products that will probably get released are tested for years until they're ready for distribution. All the beautiful failures and weird ideas are located in D9, a mirrored building down the path which people speak about in whispers. Few we encounter have been in there.
The first lab we pass is the electronics noisy testing lab, which we're not allowed to enter despite its fabulously intriguing (though likely self-explanatory) name. Next is the hair care performance lab, the temperature and humidity levels of which are constantly regulated. Inside is a large glass box filled with hanging, shiny, uniform tresses of wavy brunette hair. Brunette hair is supposedly the best colour for testing Dyson's hair care products because of how it photographs and shows up in thermal imaging scans, like the ones performed in this room to show the effects of different Dyson and competitor products on hair.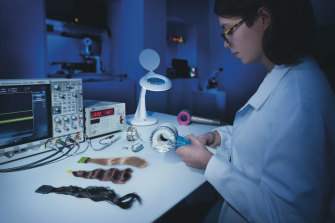 Dyson has three of these labs; one in the secret mirror building, one in Singapore, and this one, which allows the testing to go on 24/7. The engineer tells us Dyson has spent tens, if not hundreds, of thousands of dollars on human hair.
After that is the advanced manufacturing lab. In this room new products endure abuse testing, making sure they can survive drops from up to 2 metres at least 485 times and are ok with being stepped on at least once. Also in this lab is a little walled off "clean" room, where we can see three men assembling products by hand, ready for testing. Each personal care product has probably been assembled one thousand times in this room before any are sent to the factory to be manufactured, getting all the bugs out. Products come to this room about halfway through their development cycle.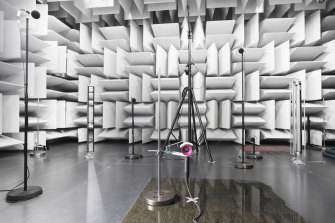 The coolest room of all is the electromagnetic compatibility lab. This is the room where they make sure the Dyson personal care products don't send out electromagnetic waves that disturb your TV or other devices. The special environment is essentially a faraday cage, with fancy ferrite tiles on the wall, which absorb electromagnetic energy. Because these tiles also absorb light, there are decorative white panels placed over them to stop the room from looking like a black hole. In the middle of the room there's an antenna like an old school TV antenna pointing at a Supersonic hairdryer. Most companies outsource this testing, because setting up one of these labs costs unspecified millions of pounds (just the separate acoustic lab cost ten million pounds, or $19.5 million), but Dyson doesn't want their company secrets getting into the wrong hands.
The final room we're shown is the prototyping lab, which is just two guys surrounded by large and expensive-looking 3D printers (and a bucket of 3D printed mini-Supersonics and V11s). The main machine in the room is the selective laser sintering printer, used to print parts and prototypes out of nylon powder. This is the next step Dyson engineers go to after building the new machines out of paper (everyone on the personal care team does a hair styling course with the option of a paper engineering course). But, just in case the nylon isn't the right texture of part, there's also resin and CNC 3D printers which give engineers options.
At the end of the tour I was left with a better understanding of why Dyson products are so expensive, which is probably the point of the tour. Products each spend around five years in development, and are tested well beyond minimum standards, in labs which each cost more than every house I will ever live in combined.
The author travelled to the UK as a guest of Dyson.