20 Important Things to Remember About The Best Man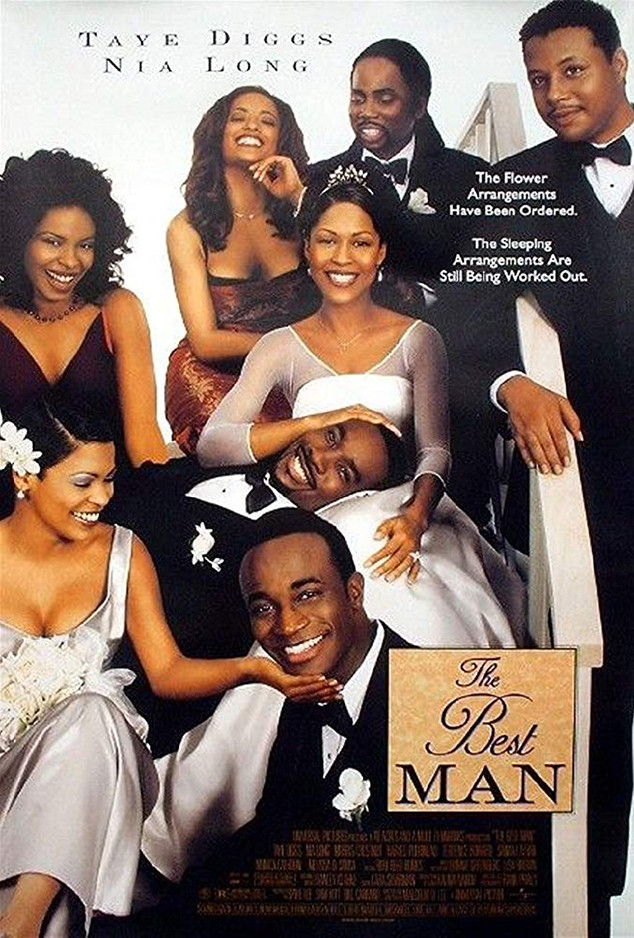 Universal
It's been 20 years since Mia and Lance said their I-dos.
And while their road to the altar in the seminal 1999 romantic dramedy The Best Man was touch and go, there was little doubt that the ending, no matter how the chips fell, would be satisfying.
Why? Because the journey had been so damn enjoyable!
Only nine years removed from a New York Times article declaring that "In Hollywood, Black Is In" following the release of Do the Right Thing, the R-rated tale of friends coming together for a wedding with a You Can't Go Home Again twist and lots of laughs along the way was a box office hit that also served to remind studios that there was a wildly underserved market for more everyday stories told by black filmmakers and starring black actors.
It wasn't ahead of its time—rather, it was both long overdue and followed in some hallowed footsteps, but The Best Man did launch careers and help lead to more representation at the multiplex.
So much so that, as Pop Matters pointed out in 2013, The Best Man may have started something, but the sequel The Best Man Holiday had "to play catch-up to madwo(man) Madea and the gang," referring to the by-then booming entertainment empire presided over by Tyler Perry.
"Hollywood needed to see that we were more than drug dealers and baby mamas," Nia Long, who played maid of honor Jordan, told Brian Raftery for his 2019 book Best. Movie. Year. Ever.: How 1999 Blew Up the Big Screen.
Taye Diggs, the titular best man Harper, said that in the late '90s he was simply looking to be in movies "where you just see African American people being people, as opposed to stereotypes."
Sure enough, The Best Man is about regular (albeit really good-looking) people and their careers, their success and failures, their struggles an insecurities, their romantic entanglements and their sex drives.
And though certain aspects of the film firmly root it in the 1990s, the themes—friendship, fidelity, faith, forgiveness and powering through when you feel ready to give up—still resonate 20 years later.
Here are 20 important things to know about The Best Man: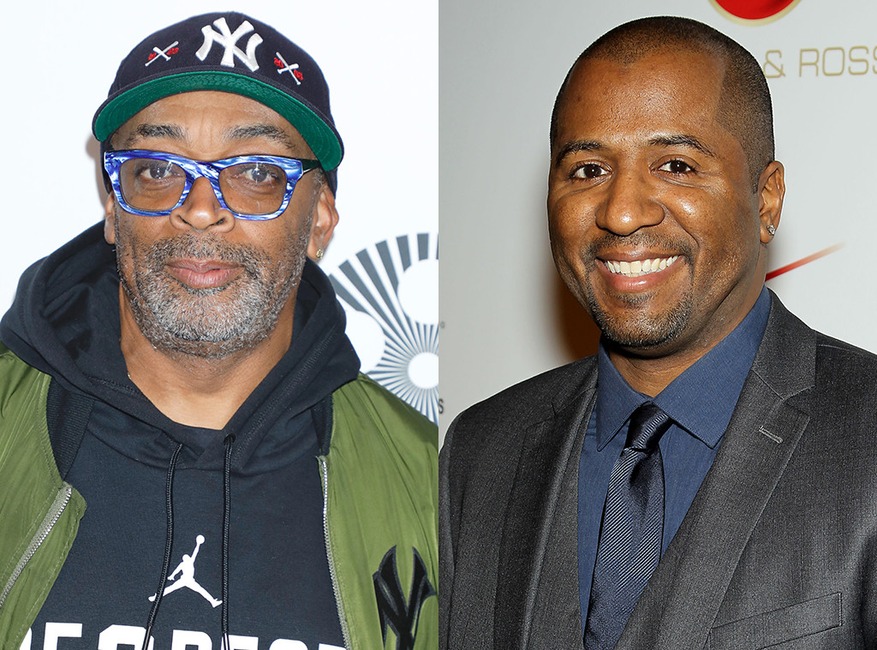 Gregory Pace/Shutterstock, Marion Curtis/Starpix/Shutterstock
1. The Best Man marked the feature-length directorial debut of Malcolm Lee, like his cousin Spike Lee a graduate of NYU Film School who didn't want to put just more of the same out there—but who also wanted to get a movie made. So, he decided to write one himself.
"There was a hunger out there for movies about the black American experience that didn't have anything to do with the inner city or drugs or violence," he told Best. Movie. Year. Ever. author Brian Raftery. "I wasn't seeing myself or my friends represented on film. There was something missing."
Noticing that a lot of hit romantic comedies in the 1990s had centered around weddings, he came up with his story and "timed finishing it to coincide with the release of Soul Food, knowing they'd be looking for the next Soul Food."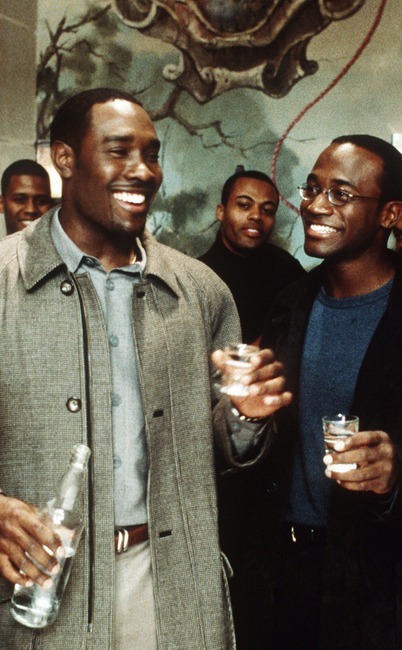 David Lee/Universal/Kobal/Shutterstock
2. The original title was My Homeboy's Wedding, seemingly a nod to the 1997 blockbuster My Best Friend's Wedding.
Meanwhile, Spike Lee did help open a few doors for his cousin to make sure the script was read by multiple studios, and Universal Pictures was the one that picked it up.
"Spike would make suggestions in the script, casting, editing," Lee told CNN later. "Sometimes I agreed and sometimes I didn't, and both ways it was great, because he respects the director's vision."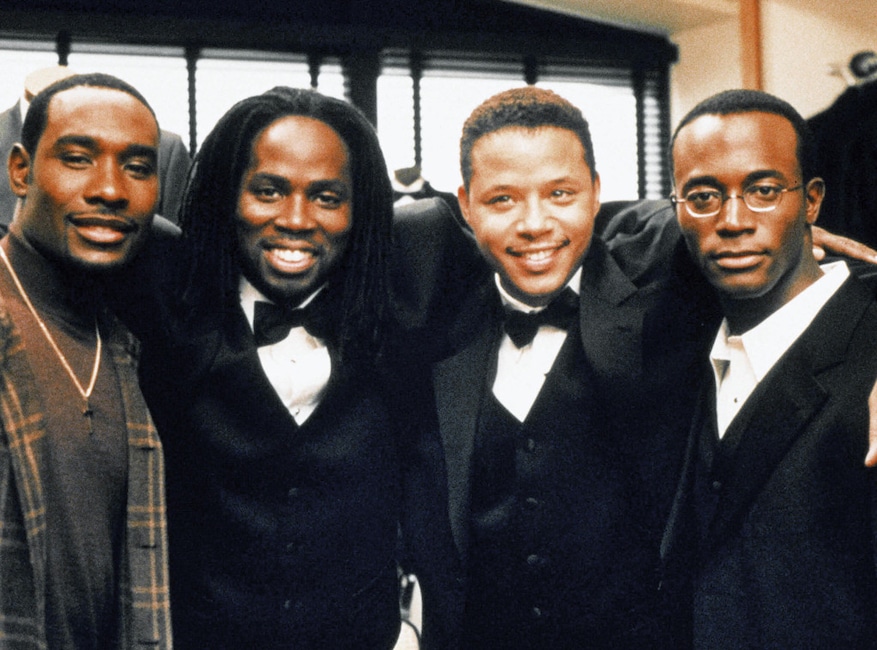 David Lee/Universal/Kobal/Shutterstock
3. Lee screened his not-quite-finished film at the Urbanworld Film Festival in New York that summer, a move he credits with helping to build buzz for the film—via email campaign, as there was no such thing as Twitter yet—ahead of its fall release.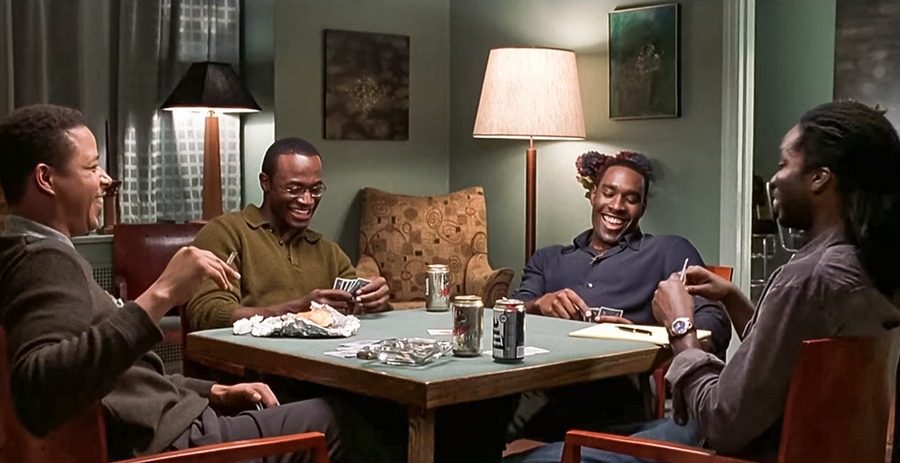 Universal
4. Lee was a fan of Diner, the talk-heavy 1982 classic about the bond between high school buddies in 1959-era Baltimore, and it shows in the 7-minute poker scene featuring Quentin, Harper, Lance and Murch just having a good time shooting the bull, Big Chill-style (until, that is, Lance gets mad at Quentin when Quentin points out that Lance is a chronically unfaithful hypocrite).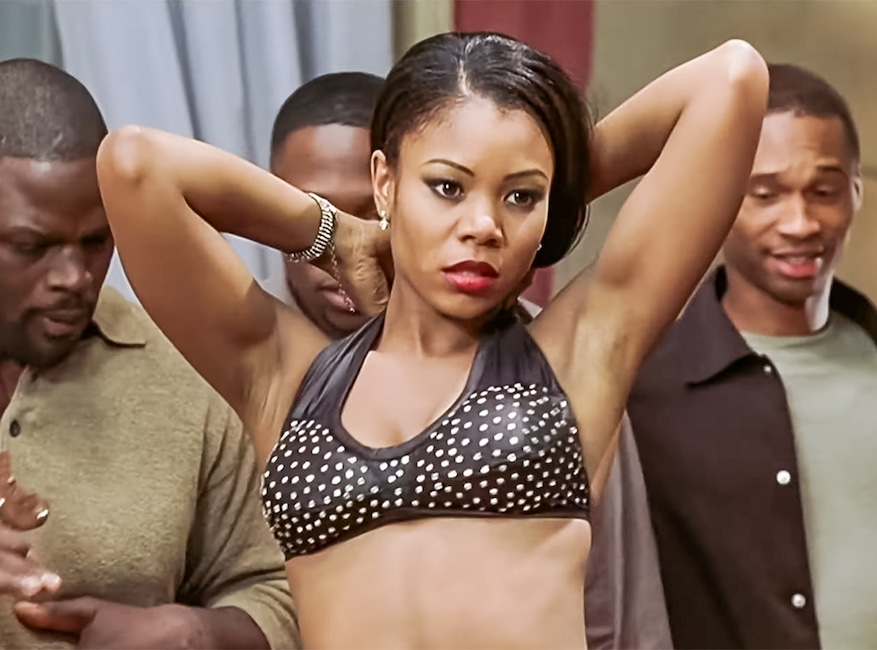 Universal
5. Regina Hall's turn as Candy, the bachelor party stripper who captures Harold Perrineau's heart, like, immediately, marked her feature debut.
"I couldn't dance," Hall recalled her audition during a Q&A at the LA Film Festival in 2018, "…and one of the girls in my acting class, she was a stripper, she said, 'you don't have to do anything…you just have to turn around and slap your ass. They won't know.'"
Before the audition she drank a bottle of Alize, and couldn't figure out why she was still sober. She told her boyfriend to wait in the car, figuring it wouldn't take long because she didn't have much to show off. When she came in, the other girls were practicing choreographed routines.
"All I had was one move!" Hall exclaimed. But she went in, grabbed a chair, turned around, looked behind her and gave her butt a slap, as planned." Producer Sam Kitt had them stop the music and asked her, "'Can you do anything else?' And I said yes and I picked up my jacket and was like, 'Thank you.' And I left!"
She got the role and two days before go-time the choreographer (who managed strippers) warned her that she was going to suck. "She was totally horrible to me," Hall said, "but she was great." The woman had Hall come to her mirror-lined apartment in Brooklyn and told her to pick out an outfit from the array of racks on display and dance till she turned herself on—and then pretend to dance for a cute guy she'd potentially date.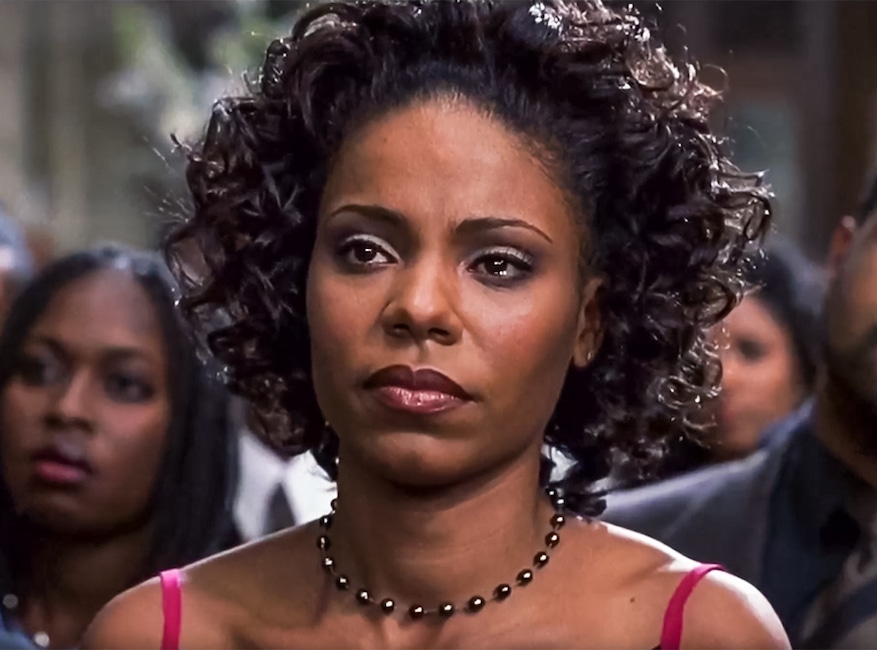 Universal
6. The Best Man was also a breakout movie for Sanaa Lathan, who plays Harper's devoted and patient girlfriend Robin—who almost runs out of patience until Harper realizes how lucky he is and proposes.
"Everybody was scared of Sanaa," Terrence Howard recalled on NPR in 2013 in a joint interview with Lathan for The Best Man Holiday. "All the women were!" Surprised, Lathan asked why. "Because we had never seen you that much," the actor replied. "And you came in and basically owned every moment that you were in, and actually, you know, became the most standout female in that movie."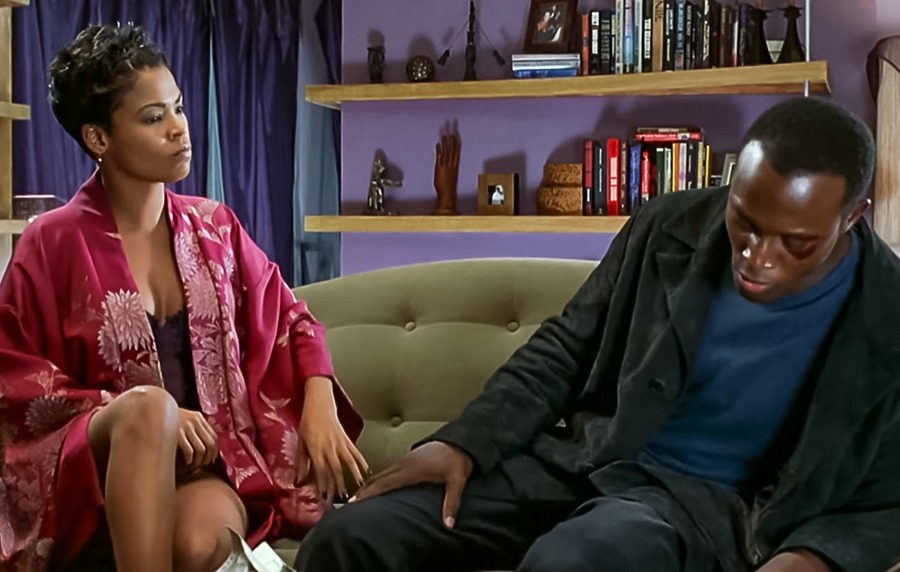 Universal
7. Nia Long had a tough time shooting the scene where her character, type-A TV producer Jordan, smacks Diggs' Harper when he dares to blame her for the content of his ripped-from-reality book—including the tidbit about him sleeping with bride-to-be Mia after she found out Lance had cheated—making the rounds ahead of the wedding.
"There was a little bit of tension that day, a little bit of indecision," she recalled to Raftery. "I had to muster up this level of frustration and anger that wasn't on the page."
"Nia slapped the s–t out of me," laughed Diggs. "I would have loved a little bit of a heads-up."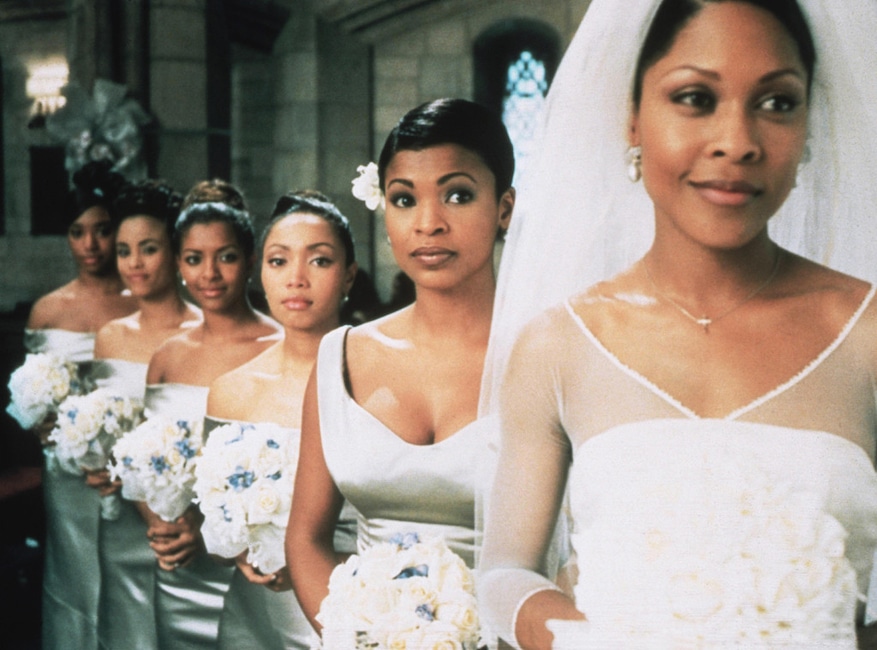 David Lee/Universal/Kobal/Shutterstock
8. Long told Black Film that she played Jordan as a combination of two of her friends, one who's a producer and another who works in public relations.
"The producer speaks really fast and that's her thing," she said. "Over the phone she can tell you 50 things in 30 seconds. And my other girlfriend who works in publicity is just always carrying stuff. She is always moving and has fifty things going on. I just wanted to create a girl who was always doing something and never really took the time out to relax. That's probably why she didn't have love in her life."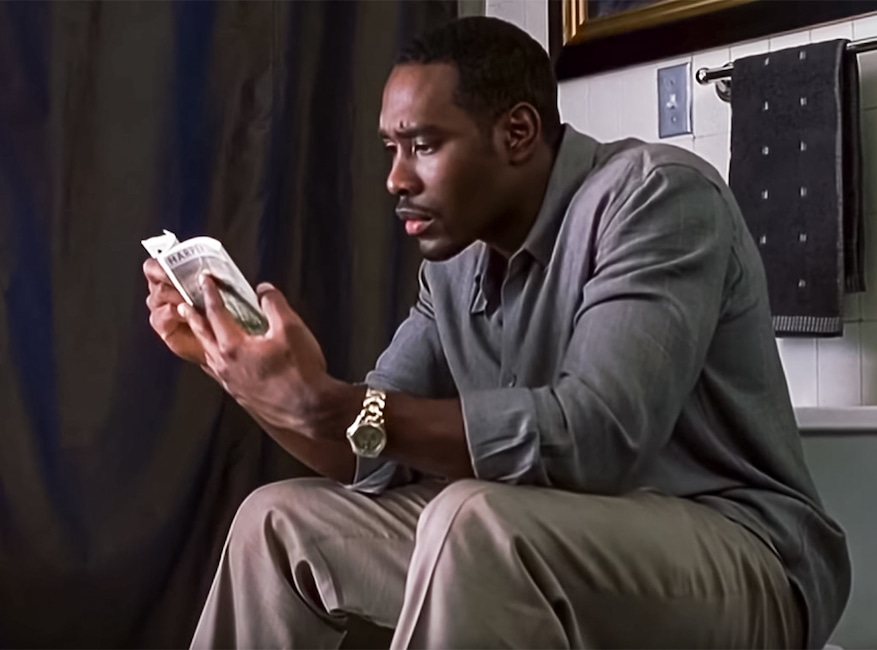 Universal
9. Morris Chestnut—the pro-football-playing, serial-cheating groom-to-be Lance, who almost can't handle finding out that his bride-to-be Mia (Monica Calhoun) cheated on him once—admitted to Essence.com in 2009 that he still didn't know what he'd do if he had been in Lance's shoes.
"My initial thought is that I couldn't get past it," said the married father of two, "but I do know there would have been some type of confrontation with the best friend for sure." (And there is, with Lance almost throwing best man Harper off the balcony when he finds out about him and Mia, and later grabbing him when Harper comes to convince him to not call off the wedding.)
At the same time, Chestnut's hope for Lance was that, 10 years later, he was still married to Mia, he was about to retire from the NFL after a distinguished career, and that they had a couple of kids.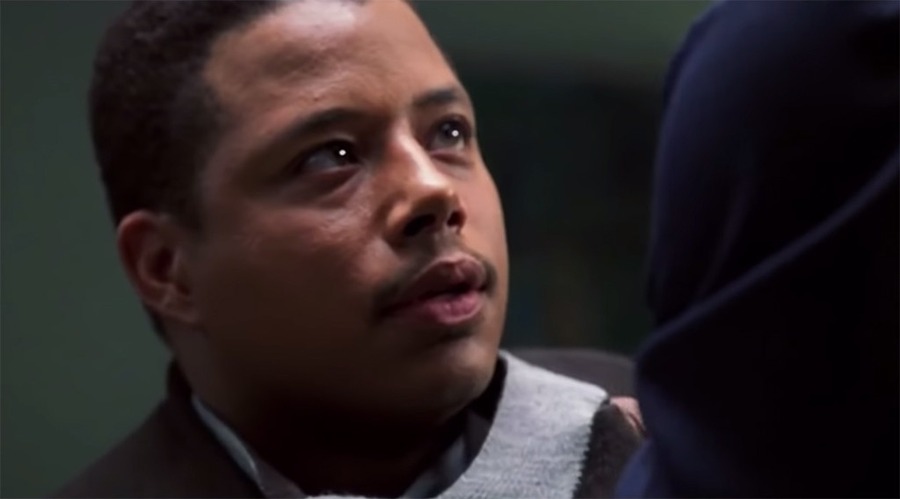 Universal
10. "Everyone loved Quentin and T. Howard's performance was incredible and all of his scenes were my favorite," Chestnut, whose Lance looks about ready to rip Quentin's head off after Quentin says it would be "karma" if Mia stepped out on him, told Essence. "He was just so darn cunning and funny at the same time. He was definitely my favorite character."
"I fashioned Quentin from Harold Perrineau, the real-life Harold Perrineau before he got married, 'cause Harold was a pimp!" Howard, whose Quentin is a noncommittal free spirit who bounces between women, revealed on NPR in 2013.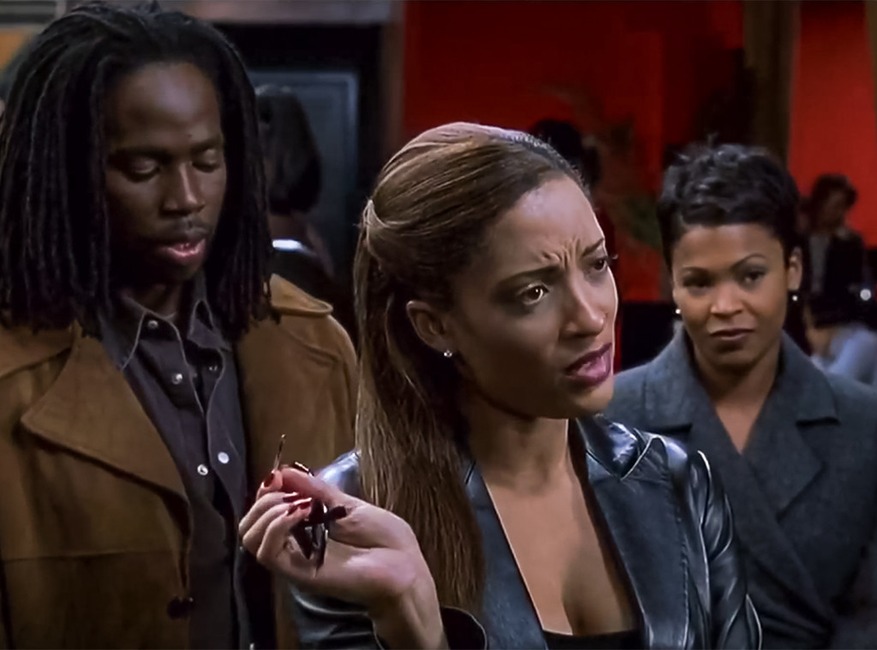 Universal
11. Meanwhile, Perrineau—then of Romeo and Juliet and Oz, not yet of Lost—plays Julian "Murch" Murchison, who's stuck in a bad relationship with Melissa de Sousa's Shelby when he falls head over heels for Regina Hall's Candace.
In real life, "I was going through what Julian was going through with Shelby in the movie…I was going through that with my first wife," Howard also told Vibe.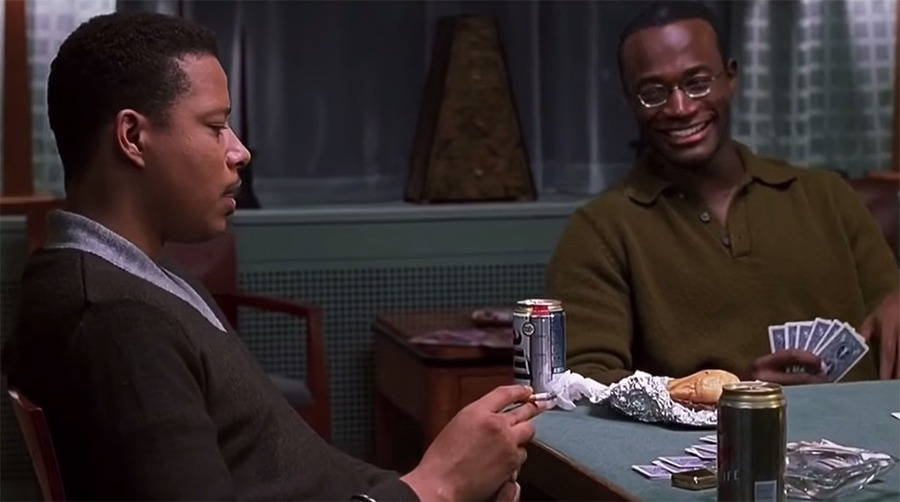 Universal
12. "We all got along so well," Chestnut told Essence.com in 2009. "It would be great for all of to get together and do it again."
Sanaa Lathan concurred when they did all get together again for The Best Man Holiday a few years later. "I think the thing that really resonated with audiences is the real chemistry that we all have," she told Tell Me More host Michel Martin on NPR in 2013. "We all really kind of like each other in real life, and have stayed friends over the years. So that kind of chemistry is palpable onscreen as well."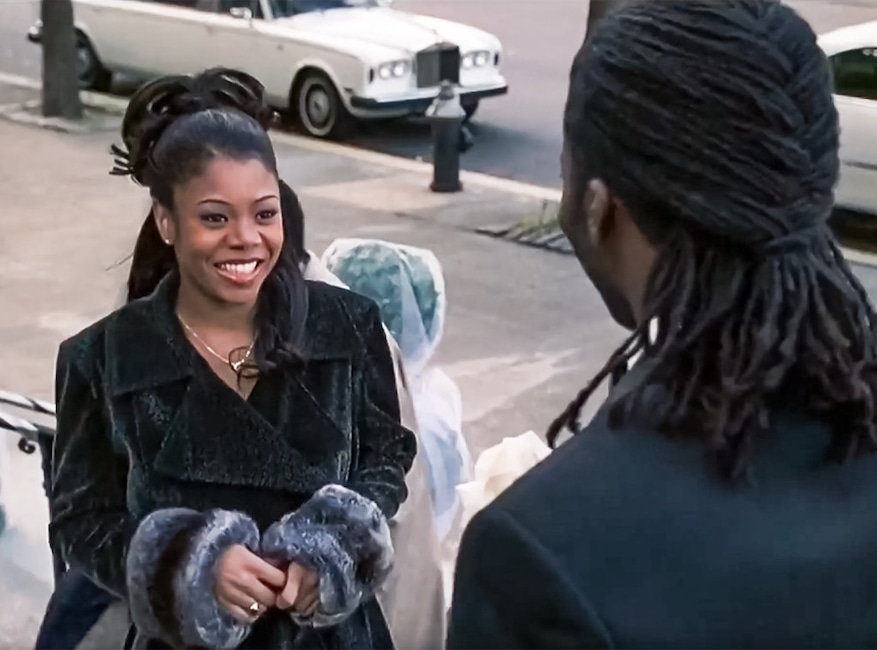 Universal
13. Hall has a theory about male filmmakers and the role their partners play in casting women in their films.
"I realize, in every role I got, I swear, it's always the wife that casts you," she reflected in 2018 to Elvis Mitchell at Film Independent's We the People summit about how her role in The Best Man came about. Asked to explain, she said, "I think men take those tapes home and go, 'Honey, what do you think?' I think the wife goes," she scrunched up her face, "'I don't like her.' And I don't think they mean that from a bad way, I think they're talking about energetically and what would serve [the role]."
About filmmakers in general, "I think their partners' influence is gigantic," Hall observed, "and so, when I met Malcolm Lee, and finally I met Cami—Camille, his wife—she was like, 'I loved you in it! I saw your tape and I was like, Malcolm, that's her!'" Cami apparently thought Hall's amateur dance was "endearing."
Meanwhile, Hall has worked with Lee four times, on both Best Man movies, Barbershop: The Next Cut and Girls Trip.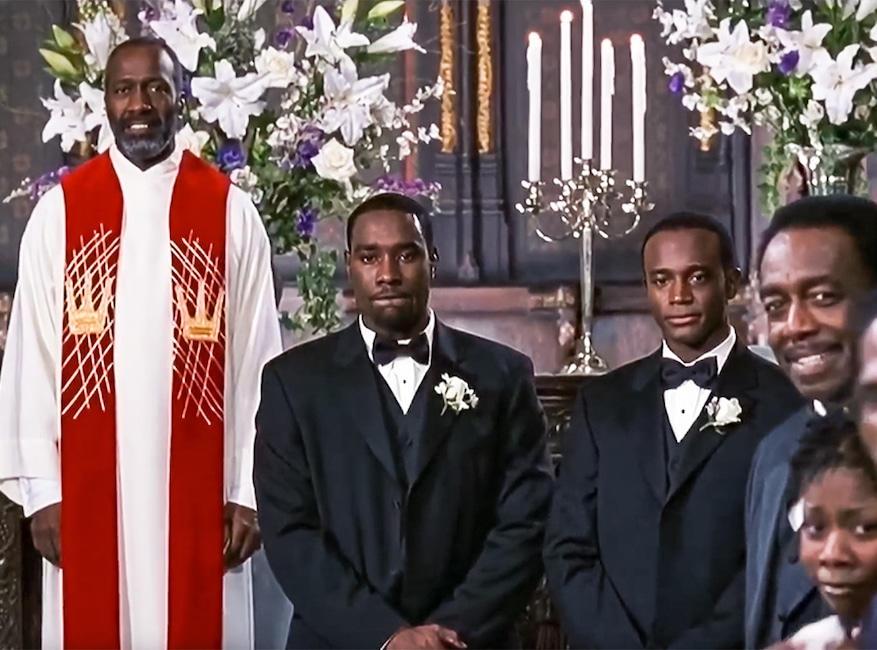 Universal
14. "He was real cool," Diggs told CNN about working with Lee. "We were all just cutting up on set. We had no problem making that transition from pal, buddy, cool brother to Mr. Directorman. Malcolm would approach us in the same style, and we would just hang out. There wasn't any intimidation factor. So every day it was like a party on set. And it wouldn't have been so if he didn't allow us to just be ourselves and enjoy the fact that we were working on such an amazing piece."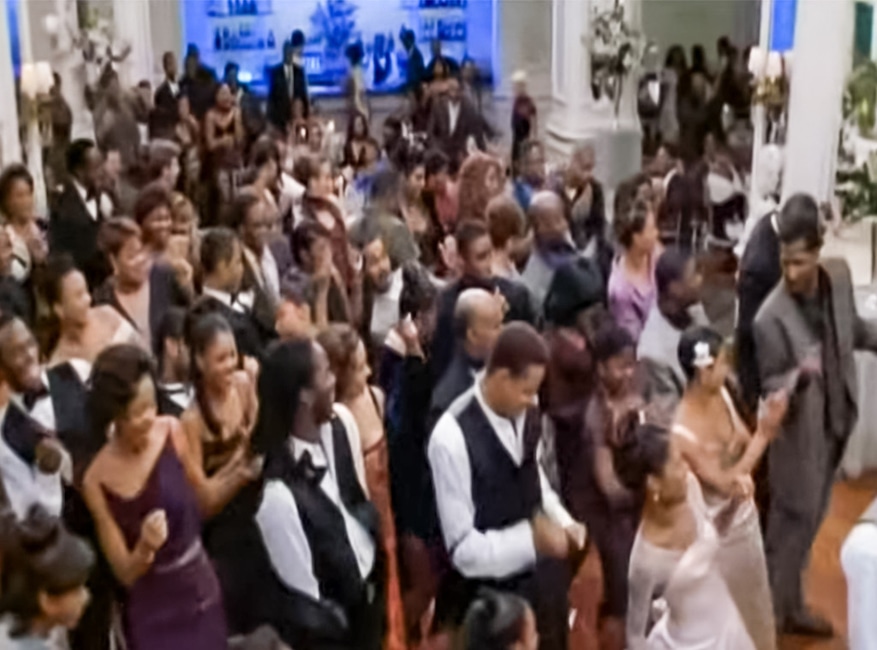 Universal
15. Malcolm Lee gave himself a little director's cameo in the famous Electric Slide scene to Cameo's "Candy" that closes the movie.
16. Long admitted that she was "struggling" during the dance sequence when, at last, everyone at the wedding can finally just relax and have a good time. "I am not as coordinated as people might thing," she told Raftery.
Chestnut told Variety in 2013 that Perrineau was the best dancer in the cast, hands down.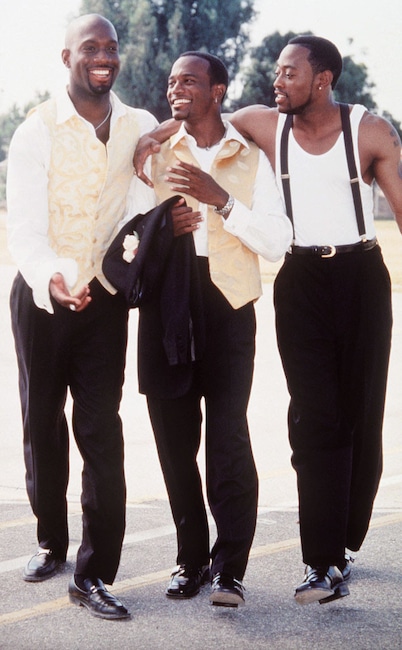 Nicola Goode/Paramount/Kobal/Shutterstock
17. Taye Diggs was also in The Wood, the other R-rated ensemble dramedy centered on a wedding with a majority black cast that came out in 1999—and which Malcolm Lee was trying to beat into theaters. And the other way around.
The Wood director Rick Famuyiwa told Brian Raftery, "There was some territorialism: 'Hey, we got here first!' But ultimately I felt it was cool these movies are being made."
And Diggs, who played a cold-footed groom in The Wood, said he felt the movies were, in essence, completely different anyway, plenty of room for both. (The Wood came out July 16, 1999, three months before The Best Man.)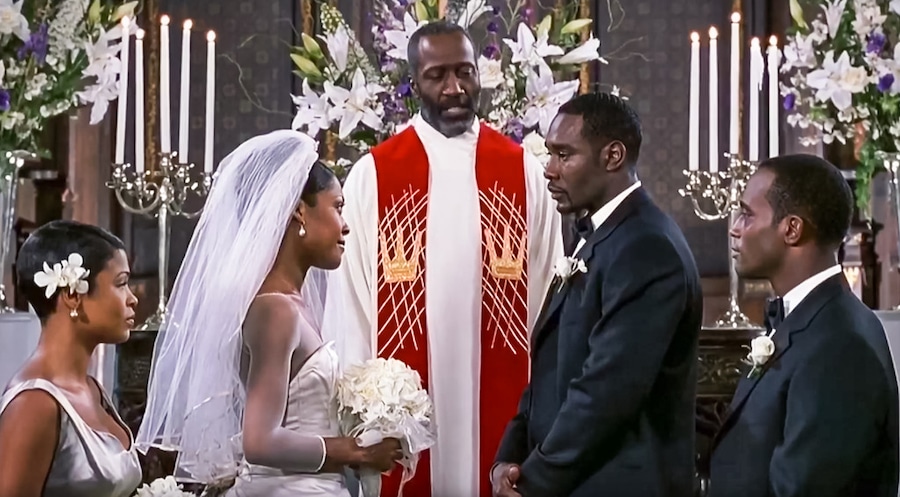 Universal
18. Made for $9 million, box office expectations were kept modest for The Best Man, but it opened at No. 1 and ended up making $35 million—in other words, it was a sleeper hit. (The Wood had been a hit too, making $25 million on a $6 million budget.)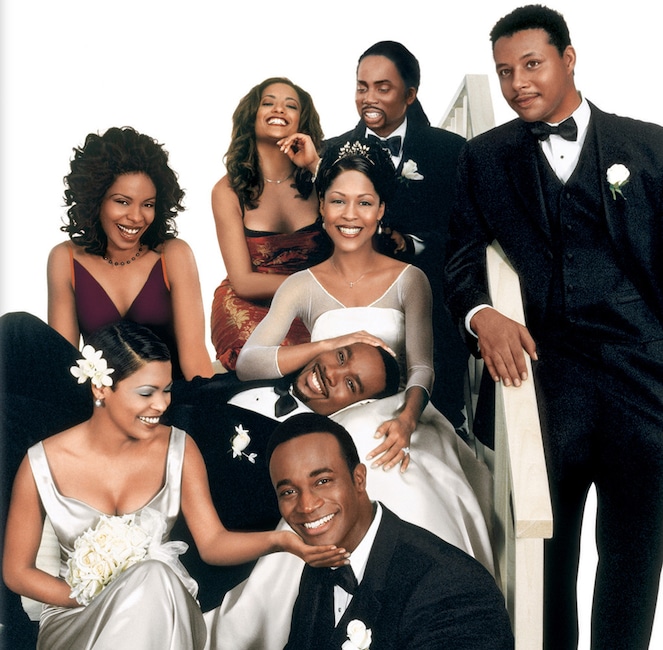 Universal
19. The Best Man was named Outstanding Motion Picture at the 2000 NAACP Image Awards, while Nia Long won Outstanding Actress in a Motion Picture and Terrence Howard won Outstanding Supporting Actor.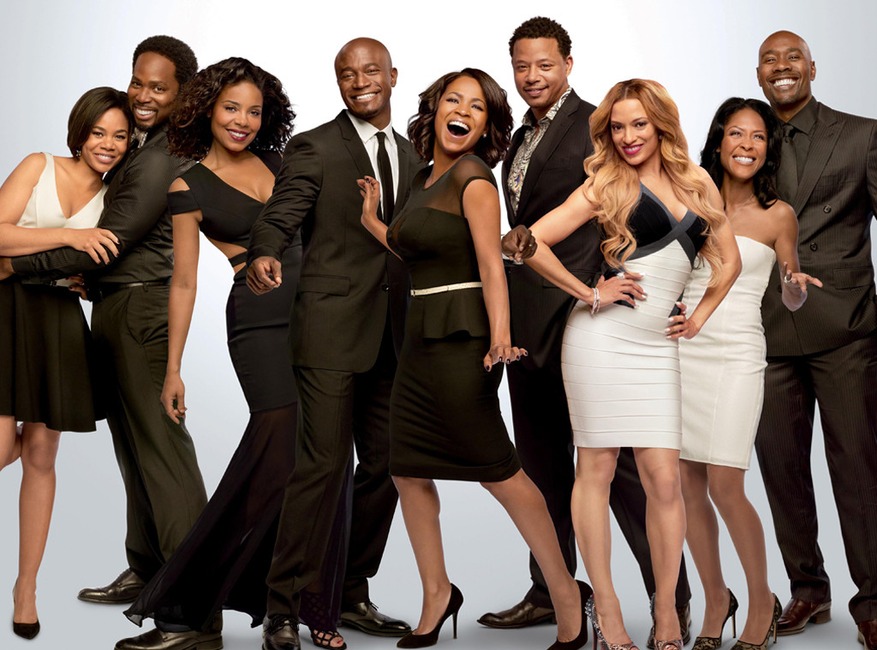 Universal/Blackmaled Prods/Sean Daniel Company/Kobal/Shutterstock
20. The Best Man Holiday, also written and directed by Malcolm Lee, was made for $17 million (the entire principal cast returned) and made $70.5 million.
Before they started shooting, Lee had them all re-watch the 1999 movie to reacquaint themselves with their characters.
Asked if there was anything she didn't like about her character's arc between the two films, Sanaa Lathan told Black Film at the time that Lee "was good, he allowed us to have input from the inception. You get first draft, second draft, studio had notes. It was a process."
Harold Perrineau told Vibe, "One of the things I love about these characters is Malcolm didn't write any caricatures of people…he wrote some people that I think other people responded [to] and you hadn't seen black people like that…college, girlfriends, and making mistakes and not making mistakes. You got to see some black people on the screen, not black characters. Y'all love those people? Here we come again…a little older, but better and just as complicated."
"Malcolm D. Lee did something that very few people had really aspired towards," Terrence Howard reflected on NPR's Tell Me More in 2013. "You know, we knew there were upscale black Americans that were living real lives, but often times that was never depicted inside of films, even on television, you know. What he created back then gave everybody an opportunity to say, 'There is a true middle class black family. And this is their language. This is how they behave.'
"So you don't have to be, you know, a… black person pretending to be white. And you don't have to be ghetto friendly. You can actually be, you know, extra medium."
Added Sanaa Lathan, "I think audiences, especially African-American audiences, were hungry to see themselves or see people that they know onscreen. And I think that this movie—along with some other movies at the time, Love Jones was another one—really depicted people that we know personally."
The Best Man Wedding, the years-in-the-making third film in an envisioned trilogy, has been "announced," but all those conflicting schedules haven't yet come together.
"If it's going to happen, it will happen before 14 years," Lee promised, talking to the LA Daily News in 2016.
In the meantime, he had the biggest hit of his career with Girls Trip, which made $140.6 million worldwide on a $19 million budget and featured a breakout performance by Tiffany Haddish, who Lee directed again in Night School.
Lee told Raftery that, as has been the case with so many hit movies featuring all-black casts over the past two decades, people still tended to say films like Girls Trip "overperform." But, he added, "maybe you just underestimate them."


Source link Entertainment News Australia